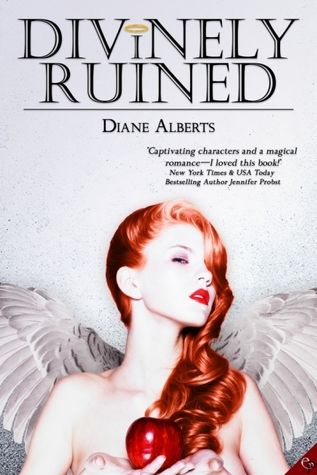 Genre:
Contemporary Romance + Paranormal (Adult)
Publication Date:
April 26, 2012
Publisher:
Entangled Publishing
Format:
ebook
Source:
Bought
Rating:
5/5 Stars
Buy:
Amazon
,
Books on Board
Goodreads Summary:
Rebecca's life sucked before she became an angel. Crappy apartment, awful jobs, abusive boyfriends–it was no wonder she jumped at the chance to escape it all and become a real live angel. The problem is Rebecca's not very angelic, and she'll have to do more to earn her wings than end her love affair with the word f–er, frick.
Especially when she's assigned to save single father Tony Weis, whose less-than-pure thoughts wreak hell on a telepathic angel's nerves. It's all Rebecca can do to keep her hands off him…but when she loses her memory injuring herself to save Tony's daughter, now it's Tony's turn to be her angel and care for her. But will Tony's devotion tempt her from her angelic path, even if it means being human again?
Read excerpt here.
My Opinion:
If you think that this is just
another
angel story, you are
so wrong
! Rebecca was not the sort of angels that we would normally think of. She was not very good at being angelic--she's head strong, has a temper and cursed. She was on a mission to save a man's soul and she needed to ace it to gain her angel wings. Imagine the shock that Tony has when a beautiful woman stalked him outside his own house, thinking she was a lunatic and was even more surprised when he found that she could read her mind... Then, in a twist of fate, Rebecca saved Tony's daughter, Miranda, and lost her memories as a result of it. Will she be able to recall everything before she endanger her angel mission any further?
What I love about Divinely Ruined was that little darling called Miranda in the story. She's CUTE!!! *squeals* Ahem! As I was saying, this is not your usual dose of angel story. I'm sure angels don't go around saying "Hey I'm an angel here to save your soul." I mean, that would totally freak you out, just like Tony did. I do understand his apprehension for this crazed lady appearing out of nowhere and then staring at him like nobody's business. He was also very protective of Miranda and I could feel the bond between father and daughter. (Oh my gosh, she's so cute!!) It's kind of interesting to read the telepathic ability that Rebecca has and I was giggling at some of the scenes about it. Then comes the memory loss and there's a different Rebecca for us. First of all, her confusion shows. Then there's Tony's struggles... (If I go on any further, I'll probably spoil it all for you...)
Divinely Ruined is a book that you'll not be able to put it down once you start. I'll definitely recommend it to anyone who wants a romantic read about Angels (and cute kid). I love it!
Quotes:
- "You have to pay the Daddy tax, first." He pointed to his cheek and waited. She laughed and planted a big, wet---
very
wet--kiss on his jaw. Tony smiled and took her hand. "Paid in full. Okay, let's go."
- "Get this through your head, Tony Weis. I'm not going anywhere. Not until I know your soul from the inside out, and know you've truly been saved.'
"That could take a long time, Rebecca."
- "Daddy, I found a woman in your bed! But she's not a fairy." Miranda sighed. "She looks like she should be a fairy."
"Or an angel," Tony said, his voice odd. He smiled at Miranda. "Pretty crazy, huh?"
Miranda nodded and studied Rebecca with solemn eyes. "Can we keep her?"
More about the author:
Diane Alberts has always been a dreamer with a vivid imagination, but it wasn't until 2011 that she put her pen where her brain was, and became a published author. Since receiving her first contract offer, she has yet to stop writing. Though she lives in the mountains, she really wishes she was surrounded by a hot, sunny beach with crystal clear water. She lives in Northeast Pennsylvania with her four kids, a husband, and a Senegal parrot. In the rare moments when she's not writing, she can usually be found hunched over one knitting project or another.
She is a multi-published, bestselling author with Entangled Publishing and Decadent Publishing. She is repped by her fabulous agent, Lauren Hammond of ADA Management. She has, as of this date, two books with Entangled Publishing, and five books with Decadent Publishing. Her February release with Entangled Publishing, ON ONE CONDITION, hit #18 on the Barnes and Noble Bestseller List.
Website:
http://dianealberts.com/
Twitter:
http://twitter.com/dianealberts
Facebook:
http://facebook.com/profile.php?id=121705201245084