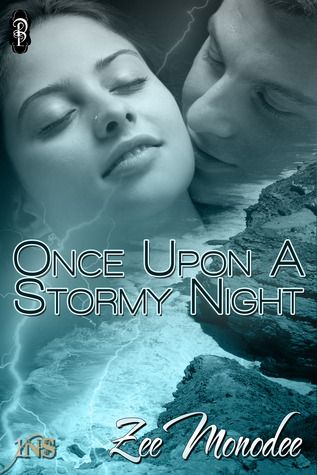 Once Upon A Stormy Night by Zee Monodee
(A 1Night Stand Story)
Genre: Adult Contemporary Romance (for mature readers)
ebook, 41 pages
Published May 29th 2012 by Decadent Publishing Company, LLC
Source: Review copy provided by publisher
Rating: 4/5 Stars
Buy:
Kindle
,
Decadent Publishing
Goodreads Summary:
British billionaire Lars Rutherford came to the tiny island of Mauritius to take over directorship of his best friend's shipping company. He's not here for anything but the job, or—to the chagrin of the many matchmaking society mamas in the country—to find the 'right woman' for him.
Corporate legal affairs specialist Simmi Moyer is rich, beautiful, successful, and climbing the executive ladder with tremendous speed. She's got it all—or does she? Mauritian society shuns her for being single and childless, and nothing she accomplishes will ever be enough.
Lars isn't looking for a woman; Simmi isn't looking for a man. Both just want one night to forget their precarious position in this traditional, culture-driven society.
The tempest, brewed by uncalled-for yearning in their hearts and the desire for something more substantial than one night of pleasure, builds between them, while outside, a real-life cyclone storms the island and ensconces them in a world where only the two of them exist.
Before the night is over, both Lars and Simmi will have to decide whether each will walk out the next morning alone, or if they can put themselves on the line to step out together.
---
My Opinion:
Even the toughest person have their own vulnerabilities and weaknesses. The same goes for the two main characters in Once Upon A Stormy Night. Lars has been in Mauritius for about eight months on a job assignment and the culture there made it difficult for him to be in the company of woman. His friend, Magnus, enlightened him that he needed a shag and even went to the trouble of contacting Madame Evangeline's 1Night Stand Service! Simmi is the Vice-President of Legal Affairs of the island's largest conglomerate. She has contacted Madame Evangeline's 1Night Stands Service on a whim since she doesn't have any prospects in matrimony and her age is catching up with her.
It was an instant attraction for the both of them. Simmi refuses to identify themselves and prefers the anonymity. What she doesn't know is that Lars actually knows who she is! For some reasons, Lars made Simmi feels safe and does she dare to expect more out of their one night of passion? When Lars wakes up the next morning, she is no longer beside him. Did she leave? You'll have to read the book to find out what actually happens next!
Once Upon A Stormy Night is a short romantic read. Readers who like to read short romance story will definitely enjoy this title. The author did a good job in telling both characters' story. I find myself actually wanting to read more about Magnus though. He seems like an interesting character. Looking forward to reading more works from the author.
---
First few lines:
(Since this is a short novella, I didn't want to spoil it with quotes from various parts of the story)
"You need a shag."

Lars Rutherford stifled a smile. He rolled his eyes and watched his Skype correspondent/boss/friend, Stellan Elriksen, do the same on his laptop screen. Behind Stellan, in the posh office of the Kensington flat, Magnus Trammell traipsed stark naked in a hangover haze. After dropping that one slurred line, he stumbled out of the office, probably in search of more booze to ease his hangover.
---
Stalk the author: