Of Poseidon (Of Poseidon #1) by Anna Banks
Hardcover, 324 pages
Published by Feiwel & Friends
Goodreads Summary:
Galen, a Syrena prince, searches land for a girl he's heard can communicate with fish. It's while Emma is on vacation at the beach that she meets Galen. Although their connection is immediate and powerful, Galen's not fully convinced that Emma's the one he's been looking for. That is, until a deadly encounter with a shark proves that Emma and her Gift may be the only thing that can save his kingdom. He needs her help--no matter what the risk.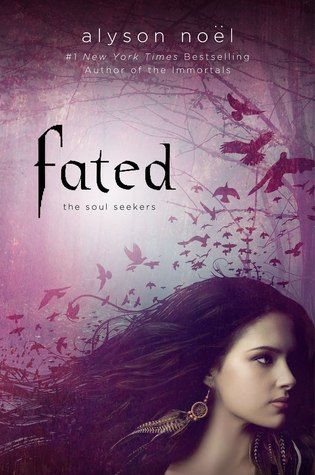 Fated (The Soul Seekers #1) by Alyson Noel
Hardcover, 306 pages
Published by St. Martin's Press
Goodreads Summary:
The first book in a magnificent new series about a girl who can navigate between the worlds of the living and the dead by #1 New York Times bestselling author Alyson Noël.

Lately strange things have been happening to Daire Santos. Animals follow her, crows mock her, and glowing people appear out of nowhere. Worried that Daire is having a nervous breakdown, her mother packs her off to stay in the dusty plains of Enchantment, New Mexico with a grandmother she's never met.

There she crosses paths with Dace, a gorgeous guy with unearthly blue eyes who she's encountered before...but only in her dreams. And she'll get to know her grandmother—a woman who recognizes Daire's bizarre episodes for what they are. A call to her true destiny as a Soul Seeker, one who can navigate between the worlds of the living and the dead. Her grandmother immediately begins teaching her to harness her powers—but it's an art that must be mastered quickly. Because Dace's brother is an evil shape-shifter who's out to steal her powers. Now Daire must embrace her fate as a Soul Seeker and find out if Dace is one guy she's meant to be with...or if he's allied with the enemy she's destined to destroy.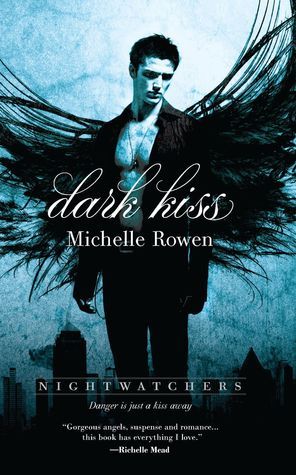 Dark Kiss (Nightwatchers #1)by Michelle Rowen
Paperback, 348 pages
Expected publication: May 29th 2012 by Harlequin Teen (first published May 22nd 2012)
Goodreads Summary:
I don't do dangerous.

Smart, über-careful, ordinary Samantha—that's me. But I just couldn't pass up a surprise kiss from my number one unattainable crush. A kiss that did something to me…something strange. Now I feel hungry all the time, but not for food. It's like part of me is missing—and I don't know if I can get it back.

Then there's Bishop. At first I thought he was just a street kid, but the secrets he's keeping are as intense as his unearthly blue eyes. If he's what I think he is, he may be the only one who can help me. But something terrifying is closing in, and the one chance Bishop and I have to stop it means losing everything I ever wanted and embracing the darkness inside me….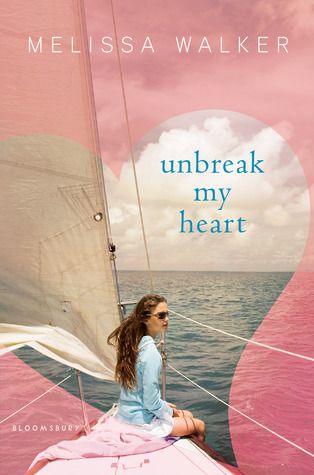 Unbreak My Heart by Melissa C. Walker
Hardcover, 240 pages
Expected publication: May 22nd 2012 by Bloomsbury USA
Goodreads Summary:
Sophomore year broke Clementine Williams' heart. She fell for her best friend's boyfriend and long story short: he's excused, but Clem is vilified and she heads into summer with zero social life.

Enter her parents' plan to spend the summer on their sailboat. Normally the idea of being stuck on a tiny boat with her parents and little sister would make Clem break out in hives, but floating away sounds pretty good right now.

Then she meets James at one of their first stops along the river. He and his dad are sailing for the summer and he's just the distraction Clem needs. Can he break down Clem's walls and heal her broken heart?

Told in alternating chapters that chronicle the year that broke Clem's heart and the summer that healed it, Unbreak My Heart is a wonderful dual love story that fans of Sarah Dessen, Deb Caletti, and Susane Colasanti will flock to.


Shadow Bound (Unbound #2) by Rachel Vincent
Paperback, US, 448 pages
Expected publication: May 22nd 2012 by Mira
Goodreads Summary:
If you live in the dark long enough, you begin to forget the light…

KORI DANIELS is a shadow-walker, able to travel instantly from one shadow to another. After weeks of confinement for betraying her boss, she's ready to break free of the Tower syndicate for good. But Jake Tower has one final job for Kori, one chance to secure freedom for herself and her sister, Kenley, even if that means taking it from someone else…

The job? Recruit Ian Holt—or kill him.

Ian's ability to manipulate the dark has drawn interest from every syndicate in the world, most notably an invitation from Jake Tower. Though he has no interest in organized crime, Ian accepts the invite, because he's on a mission of his own. Ian has come to kill Tower's top Binder: Kori's little sister.

Amid the tangle of lies, an unexpected thread of truth connecting Ian and Kori comes to light. But with opposing goals, they'll have to choose between love and liberty….


Happy book birthdays from Singapore! <3