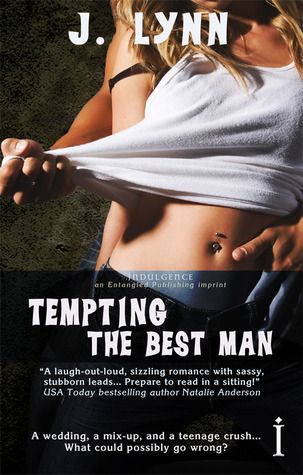 Tempting the Best Man (Gamble Brothers #1)
by
J. Lynn
ebook, 172 pages
Published April 23rd 2012 by Entangled Publishing: Indulgence
Genre: Contemporary Romance [Mature]
Source: Bought
Rating: 5/5
Buy:
Amazon Kindle Book
,
Books on Board
Goodreads Summary:
Madison Daniels has worshipped her brother's best friend since they were kids. Everyone thinks she and Chase Gamble would make the perfect couple, but there are two major flaws in their logic. 1) Chase has sworn off relationships of any kind, and 2) after blurring the line between friends and lovers for one night four years ago, they can't stop bickering.
Forced together for her brother's wedding getaway, Chase and Madison decide to call a truce for the happy couple. Except all bets are off when they're forced to shack up in a tacky 70's honeymoon suite and survive a multitude of "accidents" as the family tries to prove their "spark" can be used than for more than fighting. That is, if they don't strangle each other first…
---
My Opinion
I really love this book, everything about it! The author did a good job with the characters. They seem very real! I love the bonds between the two families and it is always heartwarming to read about their family gathering (especially at the beginning where we were first introduced to them).
There's humor in the book which I love and enjoy reading, especially when you have Chase and Madison together. Great chemistry between the two of them. It's really obvious that the two of them are in love with each other but they are in denial! It's really fun to read this book. If you haven't read it, why haven't you? I highly recommend this book to those who love fun contemporary romance.
What are you waiting for? Grab it!
---
Quotes:
"Cheesecake," she repeated, grinning. "Does i have strawberry topping?"
He fought a grin. "With a side of chocolate for dipping, just like you love."
She popped her hands on her curvy hips and cocked her head to the side. "Then what are you waiting for?" She pushed a button on her keys, and the trunk popped open. "Every second that passes between me and that cheesecake, the more dangerous this trip will get."
This trip was already dangerous.


"I've seen you naked before, Maddie."
Her mouth dropped open. "You have not seen me completely naked, thank you very much."
His eyes glittered. "Actually, once before I have, when you were like five. You ran through the house buck-ass naked when you had chicken pox."
"Oh, dear God, why do you remember these things?" She was going to drown herself, right here in the tub."


"Sorry about last night."
He shrugged it off.
"No. Really. I was pretty blitz, and I vaguely remember hitting myself in the face."
The skin at the corners of his eyes crinkled as he chucked. "You did do that."
"So embarrassing," she muttered. "Anyway, I'm sorry you had to deal with that."
"Don't be. It was fun."
---
Buy: