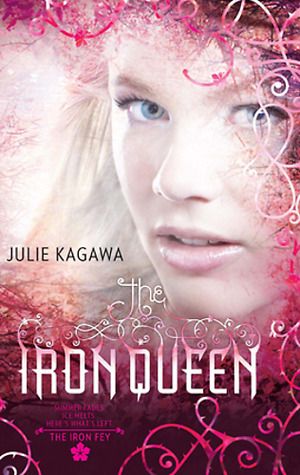 The Iron Queen (Iron Fey #3) by Julie Kagawa
Published January 25th 2011 by Harlequin Teen
Paperback 358 pages
Genre: YA Fantasy
Source: Overdrive ebook
Rating: 5/5 Stars!
Buy:
Amazon
,
Book Depository
Goodreads Summary:
My name is Meghan Chase.
I thought it was over. That my time with the fey, the impossible choices I had to make, the sacrifices of those I loved, was behind me. But a storm is approaching, an army of Iron fey that will drag me back, kicking and screaming. Drag me away from the banished prince who's sworn to stand by my side. Drag me into the core of conflict so powerful, I'm not sure anyone can survive it.
This time, there will be no turning back.
My Opinion:
Julie Kagawa didn't disappoint me in book 3. In the last book, Meghan and Ash ended up exiled by their own courts for refusing to renounce their love for each other after a fierce battle to reclaim the sceptor of the season which was stolen from Winter's care by Iron Feys. This book is a continuation from where book 2 left off. So Meghan and Ash were on their own and were planning to return to human world but found a surprise attack just outside Meghan's house by Iron Feys. She was convinced that she would have to take on the Fake Iron King to stop all these attacks as well as the increasing iron pollution in Nevernever.
If you have enjoyed book 1 and 2, you will love this book. This book is where all the emotions come into play and we get to read something more going on between Meghan and Ash (finally!). There's still lots of actions and danger in the book which I have enjoyed. I think I'm crazy but I find myself liking how this books ends with tragic emotions. Nope, no spoilers for you and I'm not going to say more. Oh! And we get to learn Ash's full name! (which I do not know how to pronounce... sad huh...)
I forgot to mention about Puck! Dear Puck! Still as amusing as ever and pleasing to read. Tension between Puck and Ash isn't as much as previous two books and I guess that's probably because of Meghan. When there's Puck, there's always funny scenes. Love funny scenes. Makes me giggle like crazy.
So, if you have already read The Iron King and The Iron Daughter, be sure to read The Iron Queen! You won't regret! Now I need to get my hands on The Iron Knight! Go Team Ash!
Quotes:
"But ... but what if I hit you?"
A snort. "You're not going to hit me."
"How do you know?" I bristled at his amused tone. "I could hit you. Even master swordsmen make mistakes. I could get a lucky shot, or you might not see me coming. I don't want to hurt you."
He favored me with another patient look. "And how much experience do you have with swords and weapons in general?"
"Um." I glanced down at the saber in my hand. "Thirty seconds?"
He smiled, that calm, irritatingly confident smirk. "You're not going to hit me."


"Looks like nobody's home," Puck said, turning in a slow circle. "Hellooooooooo? Anybody here?"
"Be quiet, Goodfellow," Ash growled, peering into the shadows with narrowed eyes. "We're not alone."
"Yeah? How do you figure that, prince? I don't see anyone."
"The cait sith has disappeared."
" … Crap."


"... Let it be known--from this day forth, I vow to protect Meghan Chase, daughter of the Summer King, with my sword, my honor, and my life. Her desires are mine. Her wishes are mine. Should even the world stand against her, my blade will be at her side. And should it fail to protect her, let my own existence be forfeit. This I swear, on my honor, my True Name, and my life. From this day on..." His voice went even softer, but I still heard it as though he whispered it into my ear. "I am yours."

Book Trailer:
About the author: Julie Kagawa
When not swimming for her life, Julie immersed herself in books, often to the chagrin of her schoolteachers, who would find she hid novels behind her Math textbooks during class. Her love of reading led her to pen some very dark and gruesome stories, complete with colored illustrations, to shock her hapless teachers. The gory tales faded with time, but the passion for writing remained, long after she graduated and was supposed to get a real job.
To pay the rent, Julie worked in different bookstores over the years, but discovered the managers frowned upon her reading the books she was supposed to be shelving. So she turned to her other passion: training animals. She worked as a professional dogtrainer for several years, dodging Chihuahua bites and overly enthusiastic Labradors, until her first book sold and she stopped training to write full-time.
Julie now lives in Louisville, Kentucky, where the frequency of shark attacks are at an all time low. She lives with her husband, two obnoxious cats, one Australian Shepherd who is too smart for his own good, and the latest addition, a hyper-active Papillon puppy.
Click here to read Julie's full profile on her website
.
Stalk her!
Website
Blog
Twitter
Facebook