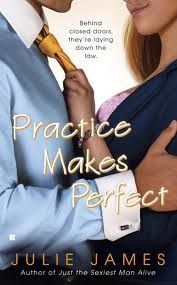 Published by Mass Market Paperback, 291 pages
Published March 3rd 2009 by Berkley Sensation
Source: Borrowed from Library
Genre: Adult Contemporary
Rating: 4/5 Stars
Goodreads Summary:
When it comes to the laws of attraction, there are no rules. The battle between the sexes is about to make these two lawyers hot under the collar. Opposites collide when two lawyers try to make partner at the same firm. Payton Kendall is a feminist to the bone. Cocky J.D. Jameson was born privileged. But when they're asked to join forces on a major case, they gain a newfound awareness of each other's personal assets. The partnership spot will be offered to only one of them, though. The competition heats up. Sparks fly. Let the games begin.
My Opinion:
The competition between Payton and J.D. was already very intense at the start and I find the way they talked politely to each other in the presence of other colleagues interesting. Both were in the firm for 8 years and it was time for the law firm to pick them to join as partners. Then, both of them were thrown into a case together, forcing them to work with each other despite their differences. Would there be a sabotage so that only one could make it to become a partner? Before we know it, both of them were on a trip with their clients to discuss some issues. Will sparks fly?
Practice Makes Perfect provides an eye-opener view for me into the world of lawyers and how they worked. Payton came to me as a hardworking lady who advocates gender equality. She's witty and confident. I'm impressed with the way she handled unexpected situation in serious environment. As for J.D., he's rich, drove a really cool car but a little childish (in one scene which you'll have to read it yourself). Perhaps I have a high expectation of Practice Makes Perfect after reading
Something About You
, it was a little disappointing that there's no element of danger and thrill in the book. But to make up for this, this book is fully of wittiness and injected with fun. I've enjoyed reading Practice Makes Perfect. This book is for those who loves contemporary romance and witty characters + law. Let's see if I can get my hands on Julie Jame's other books! She has good writing style which I love!
Quotes:
J.D. cleared his throat and pushed the button on the intercom.

"Uh, Payton, hi. It's J.D."

Dead silence.

Then another crackle.

"Sorry. Not interested."

Cute. But J.D. persisted. Again with the button.

"I want to talk to you."

Crackle.

"Ever hear of a telephone, asshole?"

Okay, he probably deserved that.




Then she would be done with J. D. Jameson forever. No more having to prove herself; no more of those pesky jitters she felt whenever she saw him at work—something like butterflies in her stomach, it was actually quite annoying; no more stress; no more fights in the library; and definitely no more sexy I'm-gonna-kiss-you-now-woman blue-eyed heated gazes.

She had no idea why she just thought that.

"I've been in love with you since the very beginning. You asked why there isn't anyone else in my life, and the reason... is you"

About the author: Julie James
After graduating from law school, New York Times and USA Today bestselling author Julie James clerked for the United States Court of Appeals. She then practiced law with one of the nation's largest firms for several years until she began writing screenplays. After Hollywood producers optioned two of her scripts, she decided to leave the practice of law to write full-time. Her books have been translated into thirteen languages and Julie's most recent novel, ABOUT THAT NIGHT, is now available.
Julie James lives with her husband and two children in Chicago, where she is working on her next novel.
Stalk her!