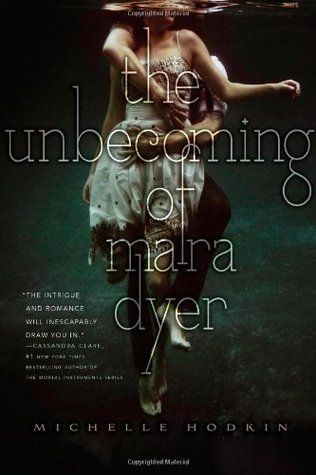 The Unbecoming of Mara Dyer by Michelle Hodkin
Series: Mara Dyer #1
Hardcover, 452 pages
Published September 27th 2011 by Simon & Schuster Children's Publishing
Genre: YA Paranormal
Source: Library
Rating: 5/5 Stars
Buy:
Amazon
,
Book Depository
Goodreads Summary:
Mara Dyer doesn't think life can get any stranger than waking up in a hospital with no memory of how she got there.
It can.
She believes there must be more to the accident she can't remember that killed her friends and left her mysteriously unharmed.
There is.
She doesn't believe that after everything she's been through, she can fall in love.
She's wrong.
My Opinion:
Good. Hauntingly good. Shockingly good. Left me banging my fists on my table and demanding for the second book and then groaning in disappointment when I found out the next book will only be out months later.
The Unbecoming of Mara Dyer started off with Mara and her friends Rachel and Claire playing with an Ouija board on the night of Rachel's birthday. Of course, being the birthday girl Rachel got to ask a question first and it just had to be how she died. The Ouija revealed four letters-- M. A. R. A. Creepy isn't it?
Then it skipped to the present when Mara woke up in a hospital with no memory how and why she was there. It seemed like she was in some sort of accident, one which left her friends Rachel, Claire and Jude dead. Mara was the sole survivor. Mara was under post-traumatic stress disorder and she requested to move so that she could move on with her life without having to remember the bad things that happened to her friends. So her family went to a new place and Mara went to her new school. Little did they know that Mara was actually having hallucinations or so she thought about her dead friends.... Nevertheless, she made a new friend in school, a guy called Jamie. Oh yes, Jamie warned Mara about Noah Shaw, that popular British Boy in school. And yes, Noah did take some interest in Mara. While on her way to school one day, Mara saw a pitiful and abused dog and she was severely reprimanded by its owner who then continued to torture the poor dog on purpose. Mara was angry... and in her mind, she thought of wishing the man dead. He deserved to die. And yes, he did die later on... and the encounter left Mara shaken. She then realized something was amiss when more problematic situations surfaced later on...
I love the Dyer family. They were close knitted and very supportive of each other. It made everything seems real! The story was written in a way which made me feel that I was reliving the story told from Mara's POV and I felt each and every emotion that she ever felt. This is what made me turn each page and craving for even more. Do I even need to say anything about Noah? God, he's totally cool! He even fought back on behalf of Mara when she was sort of insulted by the school "bully aka jealous girl". The suspense in the book nearly killed me and everything was not what I have expected or guessed it to be. Totally unpredictable!
Despite all the goodness, why did the book have to end up with a cliffhanger? Why? *pouts* I don't think I can last the wait of nearly 4-5 months. If you haven't read the book and love reading paranormal, I suggest you grab the book quick and finish it so that you can make it just on time for The Evolution of Mara Dyer. Yes! I'm dying to read that!
Quotes:
"Wait," I said as Noah slipped a book from a shelf and headed toward the door. "Where are you going?"
"To read?"
But I don't want you to.
"But I need to go home," I said, my eyes meeting his. "My parents are going to kill me."
"Taken care of. You're at Sophie's house."
I loved Sophie.
"So I'm...staying here?"
"Daniel's covering for you."
I loved Daniel.
"Where's Katie?" I asked, trying to sound casual.
"Eliza's house."
I loved Eliza.
"And your parents?" I asked.
"Some charity thing."
I loved charity.
"So why are you going to read when I'm right here?"

"You're distracting,' I said truthfully.
'I won't be. I promise,' Noah said. 'I'll get some crayons and draw quitely. Alone. In a corner."

"Did I just see you litter?'
'I'm driving a hybrid. It cancels out."