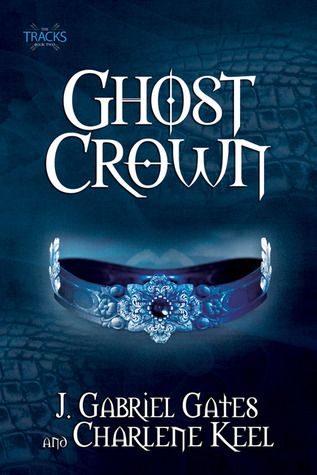 Ghost Crown by J. Gabriel Gates & Charlene Keel
Series: The Tracks #2
Genre: YA Paranormal
Paperback, 480 pages
Published June 5th 2012 by HCI Teens
Source: NetGalley
Rating: 4/5 Stars
Buy:
Amazon
,
Kindle
,
Book Depository
Goodreads Summary:
After their harrowing adventures, Middleburg's teens are hoping life will return to normal. Despite a tentative alliance between the goth Flatliners and the rich, preppie Toppers, any hope of peace is dashed when Topper girl Aimee arrives at the homecoming dance with Raphael, a Flatliner. A fight erupts between the two gangs and, in the midst of the rumble, a bizarre catastrophe occurs when Middleburg's homecoming queen discovers she has supernatural powers.
To make matters worse, Middleburg real-estate moguls who have bought up most of the land in the Flats have started evicting their tenants. They are searching for a priceless treasure prophesied in ancient Chinese writings and will stop at nothing to find it. But Raphael and his impoverished Flatliners vow to get it first and use it buy back their homes. Meanwhile, a handsome, charismatic half-angel, half-human comes to Middleburg with plans to steal Aimee from Raphael. As Raphael and his Flatliners and Zhai and his Toppers work to perfect their supernatural abilities and find the treasure, Aimee begins kung fu training, intent on becoming strong enough to locate and rescue her missing mother. When she discovers that the mysterious treasure may be the key to finding her mom, the race to find it intensifies.
But there are others who seek the treasure, too, forces powerful enough to reduce all of Middleburg, and perhaps the world, to ashes…
---
My Opinion:
The paranormal element within the book totally blew me off! If you have read
book 1 of The Tracks series: Dark Territory
, you would have known that the paranormal element only comes in closer to the end of the book. This book is totally filled with it. And when you add in martial arts, you get lots of actions!
There are still as many characters in book 2 and they are really wonderful. There are some additional ones (bad guys) and they are powerful, with the ability to enslave people. Unfortunately, one of the characters was enslaved and it was pretty bad (Shall not mention who). Everything was still as much a mystery as in book 1. The fighting scenes were totally awesome and intense! Love those! In addition, I was rooting for Raphael and Aimee throughout the whole book, hoping they could get together without having to sneak around but sadly things were difficult for them. Jack Banefield remains as one of my disliked characters in the book for controlling Aimee's life and not letting Raphael and her be together.
Overall, I'm very impressed by Ghost Crown. It is much better than Dark Territory. Who wouldn't love more actions and more paranormal element? Talk about characters with awesome powers! Ghost Crown didn't disappoint me in those aspects. However, the book did leave me with some major questions at the end, which I'll have to find out by reading the next book. Looking forward to the third book!
---
First few lines:
(For you to have a taste of the wonderful actions in the story. This is the first 2 paragraphs from the eARC and may be subjected to revision.)
Raphael Kain's adversary cartwheeled forward and attacked with a barrage of flying fists and slashing elbows. Unable to sidestep the attack, Raphael was forced to block each blow as it came, retreating a few steps down the narrow brick alleyway.The moment he saw an opening, he lashed out, counterattacking with a front kick and a host of blazing-fast punches. He landed a few glacning strikes before his opponent managed to backflip away from him, dodging in an acrobatic gury what would have been a devastating crescent kick.
"Good thing you got out of the way of that one," Raph taunted. He wasn't even out of breath. "You'd have had a headache for a week."
- Sounds good? If you like that, you are so going to like the rest of the story. Lots and lots of actions!
---
Stalk the author: