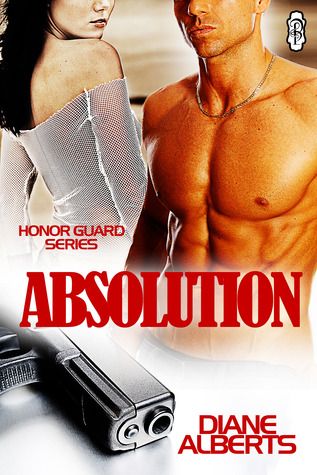 Absolution by Diane Alberts
ebook
Published by Decadent Publishing
Genre: Adult Romance
Source: From publisher in exchange for an honest review
Rating:
4/5 Stars
Buy:
Kindle
,
Decadent Publishing
Goodreads Summary:
Eva can't believe Joseph dares to show his face to her after he'd cheated on her with a stripper—in her bed. She'd kicked him out, and has no desire to let him back in, despite his claims of being assigned to protect her from the Cartel. Her life very well may be in danger, but she fears more for the safety of her heart.
Joseph made one foolish mistake a year ago, and has been paying for it ever since. She might not want to allow him into her life again, but he doesn't care if she despises the very thought of him. His duty is to keep Eva alive, even if it might end up being the death of him. Because he never stopped loving her.
Can they put their painful history aside, and work together against her enemy? Or will the past prove too strong to be forgiven?
---
My Opinion
I love dangerous situations as it really creates suspense within the story. Absolution didn't disappoint me in that aspect. Put an agent and a normal teacher together and you get a superb story, never mind that the agent was caught cheating by said normal teacher just weeks ago with a stripper in their bed and got chased out of the house. Fate brought the two of them together when Eva's father sought Joseph's protection for Eva because he believed she was being targeted due to some of his military mission.
Joseph arrived on the same day where Eva was going to have a date with a guy. Funny scene when the guy showed up at the house! Totally enjoyed that. When Eva was targeted by an armed man in her own house, Joseph decided to hide her somewhere where even her father wouldn't know to find. Oh! The danger! Sometimes, I felt like whacking Eva on her head for being so stubborn. It could have saved them lots of trouble and heartache if she listened. But then, it would take the fun out of the story wouldn't it? When I began the story, I disliked Eva's authoritative father but found myself finding him a little funny at the end. How did my view on him change? Will Eva ever find it within herself to forgive Joseph? Read Diane's Absolution to find out! You have to read it if you enjoy reading her other works. If you haven't tried any yet, be sure to try ALL! They're really good!
---
Opening Paragraph:
"Let me get this straight, sir." Joseph stared at Colonel Hugo Gonzales, wondering if he'd hallucinated. "You want me, your daughter's ex-boyfriend, to walk back into her life and protect her from some kind of threat? Sir, six weeks ago, Eva threw me out and screamed at me loud enough to wake the neighbors. And you made sure to keep—"
---