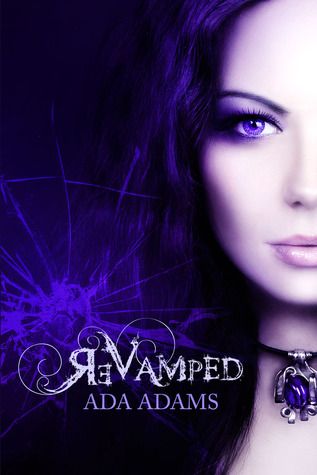 ReVamped (Angel Creek #1) by Ada Adams
Paperback, 300 pages
Published February 20th 2012
Genre: YA Paranormal
Source: From author in exchange for honest review
Rating: 5/5 Stars!
Buy:
Amazon
,
Kindle
Goodreads Summary:
A simple mission turned deadly.
Nineteen-year-old vampire Dawn has led a sheltered life within the confines of her father's presidential headquarters. Upon being sent on a mission to revamp four goofy misfits into guardians of a peaceful little town of Angel Creek, Dawn believes that all her dreams have finally come true. What starts off as a simple task, turns into something unexpected, changing Dawn's life forever and leading the action-loving, thrill-seeking vampire teen on a path of mystery, danger and intrigue.
When a human girl is kidnapped by a group of rogue vamps, Dawn discovers that there is more going on in Angel Creek than meets the eye. And it all connects to Ethan, the cute newcomer who seems too perfect to be true, Sebastian, the mysterious vampire with a turbulent past, and even Dawn herself. Dawn must not only succeed in revamping the troubled recruits, but must also prevent the vampire race from being overtaken by a malevolent villain who has a strange and obsessive fascination with her. As threat escalates, romance blooms, and ghosts from her past begin to surface, Dawn is sure of only one thing: her life will never be the same.
---
My Opinion:
ReVamped is such a wonderful book! It's fast-paced, full of actions and superb characters! A totally refreshing view on vampires--they are accepted in today's society and some are even idols. Wow! Totally wow!
ReVamped is about a 19 years old vampire named Dawn, a Born vampire, who was put on a mission by her father, the vampire president, to group the remaining vampires at Angel Creek and to train them to protect the town because the previous group of protectors disbanded to pursue their own dreams. That is when the exciting part starts. Well, the remaining 4 vampires weren't really fantastic characters at the beginning and seemed too willing to be part of the group to protect their town. They were not some powerful vampires and were really in need of some training to get them in shape. What's with the 5th vampire? Why didn't her father hear about him? Who was stalking Dawn at their secret training ground? And why was the human boy named Ethan interested in Dawn? Oh... There's a secret behind everything! Will Dawn be able to accept them?

As I've mentioned, the 4 vampires were pretty pathetic at the beginning and it is really wonderful to see them grow together as a group. Each of them really have their own personality and it's fun to watch them interact with each other. What I feel is different in this book is that vampires are actually being accepted in the society! How cool is that? And the concept of the two types of vampires: The Born and The Made. Besides, I can relate to Dawn really easily. I can feel what she felt and understood what she was thinking. It was all due to the style of writing, which I enjoy immensely. In addition, ReVamped took me by surprise on some parts of the story. It's a good thing because I can't really predict what's going to happen and this made the reading really fun and enjoyable! I really recommend this book to those who love some vampire reads. This is a read-worthy book! Seeing that this is the first book of the series, I can't wait to read what's going to happen to Dawn and her group of vampire comrades!


---
Quotes
"Can I help you?" I asked, doing my best to match the sultriness of his tone in my own voice. Even if I had sounded poised and elegant on the outside, in my head, I felt like a complete dork.
"I think I should be asking you that," his playful smirk was now a full-fledged smile, complete with slight dimples on each of his chiseled cheeks.
It was dressed in a pink sweater, and while the bright pink collar around its neck had the name Daisy inscribed on it, the tiny being barely resembled a dog.
"Ohmigod, Hannah! The werewolves turned your poor dog into a monster!" Brooke exclaimed at the sight of the trembling ball of fur.
"Shall we dance?" Sebastian finally asked, extending his hand out to me. I glanced down uncomfortably.
"No, thank you."
He retracted his arm, looking a little hurt.
"I'm sorry. I wasn't trying to be rude. I just…don't dance." I explained.
"A lady who doesn't dance. Interesting," Sebastian said, looking a little more cheerful.
I laughed awkwardly. "I'm hardly a lady." As if on cue, the heel of my shoe gave way, sending me stumbling forward.
---