I'd like to welcome Mr. Jackson Keene to my blog today!
Read on to find out more about Mr. Keene's book: Nolichuck! TJ's Wild Frontier Adventure.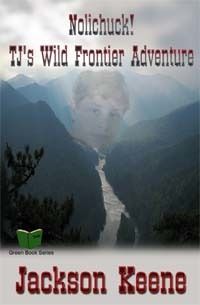 Summary from Amazon.com:
TJ s just an ordinary fourteen year old kid with extraordinary problems at home and school: A broken up family from his parents bitter divorce, evil bullies almost every afternoon, failing grades, boring classes, snobby girls, mean teachers, cut from basketball tryouts, few friends. Life is rough for TJ Cockrell.
And then that mysterious little green book had to go and throw him into the past. And not just any past, but into the untamed forbidding forests of 1802 eastern Tennessee along with the savage Indians, wild beasts, bloodthirsty robbers, backwoods ruffians, and log cabin living! Yup, it s definitely not 2011 Knoxville anymore.
And he thought his present life was bad news! But TJ s adventures are only beginning. Along the way, he fights off killer beasts and bandits and braves, gains a world of confidence in himself, finds his first real love, and meets a fantastic frontier family who really has it together. When he returns to the present, he s a brand new person ready to defeat deadly robbers in his own home, beat the bullies at school, win the girl, gain friends, and make great grades. He even gets his family back together again. Sort of. In the end, the little green book is really cool. And TJ can t wait to go on another action-packed adventure into the perilous past!

Click here to read my review.
---
Thank you Mr. Keene for doing an interview with us! Can you tell us a little about yourself?
I was was born "sometime" before the turn of the century in a little town that nestles close to the mighty Mississippi and not so far away from Graceland, the final home of the King, Elvis. Millington, Tennessee was, until 1993, home to Memphis Naval Air Station, at one time, among the busiest and biggest of U.S. naval stations in the whole world.

I attended seven different schools, and lived in five states (TN, RI, CA, FL and TX) before graduating from senior high school with honors. I obtained undergraduate and graduate degrees in History and spent a year toward a Ph.D. in the same field before abandoning my original goal of being a publishing professor.

However, I never lost my love of history, detailed research, or good historical fiction.

Rebounding nicely, I completed a M.B.A. in Economics & Statistics at the University of Oklahoma (leading my class), and gamely entered the gritty but fast moving world of business. For the first half of my career, I lived the real life of an advertising Mad Man including a stint as Director at iconic Ogilvy & Mather as well as SVP at two other marketing firms. In the second half of my business career, I was in senior management with several software, telecom, and data service companies.

These days, I indulge in another of my loves, basketball – coaching and playing on my own Men's Over 40 team, as well as volunteer coaching youth teams. A fitness fanatic, I work out as much as I write, which is to say, every day. I also attend a most wonderful church, Bent Tree Bible Fellowship.

Yes, deep inside, I've always had the desire to write. My first novel, a mix of historical & contemporary YA fiction, was published September 2011 by Treble Heart Books. The manuscript for my next novel, a combination of historical romance & family saga, has just been released to the publisher for scheduling. More news to come!

And already, I am beginning work on the second book in my YA Adventure series.

I live in Plano Texas with my wife, Barbara, soon to be joined by a chocolate female dachshund puppy to be named Sprinkles. I have two grown daughters. Emily, the oldest, finished her Ph.D. in Mathematics in record time and was awarded the prestigious Humboldt Fellowship. Newly married, she currently lives in Berlin with her wonderful husband, Jim. Renata, the youngest, is a proud graduate of Sam Houston State, and is in junior management with a large automotive dealer services firm. Both daughters are avid runners, actively competing in marathons, half-marathons, 10K's, and 5K's. Renata is also a classically trained dancer and cheerleader, and in her not-so-spare time is co-captain of a busy dance squad for a semi-pro sports team.

When and why did you start writing?
I've had the "itch" to write for 20 years,and finally woke up one day and realized that I'd be an old man if I didn't start soon! I wrote plays and short stories as a kid, and have had several ideas for novels over the years, but never jump-started my writing in a serious fashion until NOLICHUCK came along.
What inspired you to write Nolichuck?
NOLICHUCK was a combination of many things stewing around inside. I was born and lived in Tennessee as a kid, and knew some of its history. Like TJ, the main character of our story, I had to constantly fight off bullies in school. I always loved history, but wanted to write about periods of history that are less written and less celebrated than the great events -- a look at common people living everyday lives, so to speak. Davy Crockett was a childhood hero, and I wondered what it was like for him as a teenager. Of course, I originally planned to be a history professor, so naturally one of my characters HAD to be that. I was never the star athlete in high school, so I emphasize with TJ's disappointments in sports. Above all, I wanted a story that would deal realistically with hard life issues that far too many young adults face today: Bullying, divorced families, struggling with grades, not making the "team", not part of the most popular cliques, mean teachers, boredom, unhappiness, few close friends, lack of meaningful communication with either parent, etc.
What is the hardest part of writing Nolichuck?
For me, developing the characters and creating believable dialogue was the hardest part. Coming up with an imaginative plot with subplots is fairly easy, but fleshing it out with people and interaction that captures the reader is what it's all about.
What is your favorite place to write?
In our den with its fireplace, couch (where I can catnap now and then), and my personal office set up is where I can fully concentrate on thinking and writing. Although, truth be told, some of my best ideas and plot revisions come to me just as I'm drifting off to sleep at night. I keep a notepad and pen next to the bed to capture "brainstorms" when they come.
Can you share a little of your current work with us?
The next book in the YA series is Reds! TJ's Wacky War Adventure. In addition, I have just submitted the manuscript for my second novel to the publisher. Here's a teaser.
SARAH QUANLI, NOVEL ONE, THE BEGINNING (Tentative Winter 2012)
Och aye! The beautiful yet deceitful Rose McDonald had twisted the knife deep in David Adam MacDougall's big heart. He was extraordinarily handsome––with chiseled muscles, kindly soul, thoughtful personality, and totally faithful. Any other lass in his Scottish Highlands village would have cheated her own sister to become his bride.

Now MacDougall's heart was broken into a thousand pieces. Now he only wanted to reach the faraway city of Beiping China where he was called to be a missionary. But before arriving in that mysterious mistress of the orient, he would face uncertain dangers: Four gorgeous, lusty ladies on board fighting fiercely for his affection, unrequited, during the arduous voyage . . . Bands of marauding pirates off the coast of Shanghai, four devils already on the tramp steamer vessel cleverly disguised as passengers, plus a dozen more primed to assault the Ayrshire from the ship's side in the swirling darkness of the sea mist . . . And a midnight attack on his small traveling party by murderous bandits along the unprotected road between Tianjin and Beiping.

The year is 1904. The bloody Boxer Rebellion is only four years past. Much of northern China still seethes with undercurrents of resentment and hatred of all things Western. If David can just make to the ancient city with body and soul intact, if he can just survive––there he'll find his new purpose, his new home, his new people.

And there, he'll meet the love of his life, his true soul mate: The lithe, athletic, saucy, highly intelligent and equally independent Xiu Li!
The planned four-book series of Sarah Quanli tells the heart-rending yet ultimately triumphant tale of the MacDougall family––from the passionate love story of David & Xiu Li, to daughter Sarah surviving the wars, turbulences, and upheavals of 20th century China unto old age, to David's granddaughter and great-granddaughters determinedly building a new beginning for themselves under the sunny skies of faraway California.
It also tells the secondary story of David and Xiu's love for the newly invented sport of basketball, how roundball first came to China, and how their offspring inherited their great drive for the game.
What do you like to do when you are not writing?
Reading good books, weight-lifting or playing basketball, coaching youth basketball, working with my developer to get my author website and blog up and running, spending time with family and friends.
Who is/are your favorite author(s)? Why?
Rowling, Tolkien, Lewis, McMurtry, Hemingway, Steinbeck, Larsson, and Patterson, are among my favorites, to name a few. Each one has his / her own merits and unique appeal to me as a reader. Rowling, Tolkien, and Lewis are masters at characters, plots, dialogue, and inventing whole new worlds. McMurtry is a absolute genius when it comes to dialogue. Hemingway and Steinbeck I like for their evocative style of writing. Larsson is known for his crisp, taunt pacing and plot. Patterson is a best-selling author in large part because of his staccato action and pacing that carries the reader inexorably from scene to scene, without a chance to catch one's breath.
---
Purchase the book: