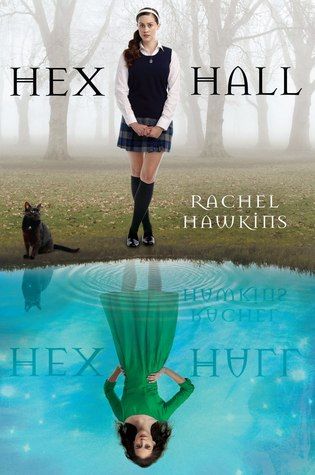 Hex Hall by Rachel Hawkins
Series: Hex Hall #1
Paperback, 323 pages
Published February 1st 2011 by Hyperion Book CH
Genre: YA Fantasy
Source: Bought
Rating: 5/5 Stars
Goodreads Summary:
Sophie Mercer is a witch. When Sophie attracts too much human attention for a prom-night spell gone horribly wrong, it's her warlock dad who decides her punishment: exile to Hex Hall, an isolated reform school for wayward Prodigium, a.k.a. witches, faeries, and shapeshifters.
---
My Opinion
There's something in the book that made me want to flip the pages and follow Sophie's story. Hex Hall is an entertaining, fun and exciting book and I enjoyed every moment of it! Witches, faeries and shapeshifters all lumped together in one book and add in vampires to the group to add in a little element of danger. That's Hex Hall for you--a reform school for wayward Prodigium. What landed Sophie into Hex Hall was one love spell gone wrong.

On the first day at Hex Hall, Sophie was attacked by a werewolf, saved by a warlock, had to share a room with the campus's only vampire and was told by the other three dark witches in school that her room mate had killed a student before. How worse could the situation get?

I love the pacing of the story, and it even included a little history of Hex Hall when Sophie first joined the school. I also love the humor injected into the book and it is interesting to following the story through Sophie's POV.

Hex Hall is very engaging with likeable characters. I think the mystery complement the story very well. The ending left a great opening for book 2 and though I'm a little surprised by the outcome, I must say that it's just Sophie's nature to do it. Brave. That's what she is.

I can't wait to read the sequel. I'll definitely recommend Hex Hall to those who fancy a quick and witty read.
---
Quotes:
"Sophia Mercer," Elodie intoned, "we have come to induct you into our sisterhood. Say the five words to begin the ritual."
I blinked at her. "Are you freaking kidding me?"


Suddenly Jenna burst out laughing.
"What?"
She shook her head, her pink stripe falling in front of one eye. "Just thinking. Man, Sophie, it's only your first day and you've already befriended the school outcast, pissed off the most popular girls at Hecate, and developed a full-blown thing for the hottest guy. If you can manage to get detention tomorrow, you'll be like, legendary."


"So how was cellar duty tonight?"
"Cellar-ific."
"And your stupendously futile crush on Archer Cross?"
"Still stupendous. Still futile."
---
About the author: Rachel Hawkins
Buy from Amazon