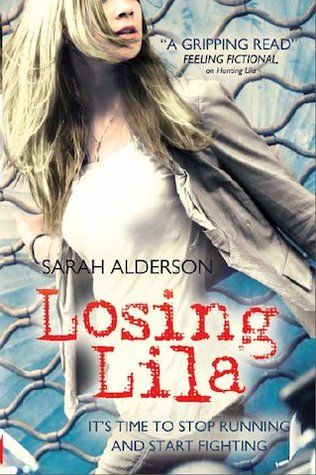 Losing Lila by Sarah Alderson
Series: Lila #2
Paperback, 322 pages
Published August 2nd 2012 by Simon & Schuster UK
Source: Bought
Rating: 5 Stars <3
Alex and Lila are on the run, desperately trying to stay one step ahead of the Unit, which is somehow tracking their every move. While Alex is determined to keep Lila safe and her ability secret at any cost, Lila's only thought is of finding a way back to California so she can rescue her brother and mother from the military base where they're being held. Struggling to control both her growing power and her deepening feelings for Alex, Lila decides the time has finally come to stop running and start fighting. Together with Alex, Demos, and the others she's come to think of as family, Lila plans not only to save her brother and mum, but also to completely destroy the Unit and everything it stands for. But the plan requires Lila to return to California alone, and to make friends with the enemy - and in doing so, she risks losing everything: Alex, her family… even her life.
Losing Lila is the sequel to
Hunting Lila
. Do read Hunting Lila before Losing Lila because you wouldn't want to miss out on all the Alex goodness! <3 I simply adore Hunting Lila because Sarah knew how to create moments in her book that leaves readers like me want for more! When I finish reading Hunting Lila, I was eagerly anticipating Losing Lila and this book does not disappoint!
Losing Lila begins with Lila and the oh-so-sexy Alex. Then we're thrown into action, action and more action! It's a non-stop roller coaster ride throughout! Lila and Alex are on the run from the Unit but at the same time, they are trying to figure out ways to save Lila's mother and brother. In Losing Lila, both of them were teaming up with Demos and it's especially fun to read Suki. She's just so cute! She kept reading Lila's mind and guess what's in it? *winks*
The characters are well developed in Losing Lila and I can't seem to get enough of them. Put Lila and Alex together, you'll get swoon worthy romance. If you enjoyed reading Hunting Lila, you'll definitely LOVE Losing Lila! I'm hoping Sarah will write a third book for this series! I want more of Alex! And Lila! Oh, and Suki!
Get your own copy today!
Stalk the author: Sarah Alderson