Acadian Waltz
by
Alexandrea Weis
Published: 15 Jan 2013
Genre: Adult Contemporary Romance
Buy:
Amazon
,
Kindle



At thirty, Nora Kehoe is feeling pressured to settle down. On a blind date, Nora unexpectedly ends up in the emergency room where she meets Dr. John Blessing. She hopes the pragmatic Dr. Blessing can make her life complete. Then, a passionate encounter with a childhood friend changes everything.




The charismatic Jean Marc Gaspard manages the family business, Gaspard Fisheries. But rumors abound that Jean Marc is running more than seafood through the waters around Manchac Louisiana. When a family crisis sends Nora to Manchac, she is thrown headlong into the dangerous world of smugglers and swindlers. And as Jean Marc tries to protect Nora from his past, he realizes he may lose her because of it.




The dark bayou waters run deep with secrets in Louisiana, and every Cajun knows how to dance the fine line between the right and wrong side of the law. But for strangers, learning the steps to staying alive in the swamps can be tricky. Life, and love, will be dependent on how well one can master the … Acadian Waltz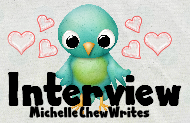 Today, I'm please to welcome Alexandrea Weis over for a short interview!
Can you tell us a little bit about yourself?
I started writing at the age of eight, but I have worked as an advanced practice registered nurse for over twenty years. I am also a permitted/certified wildlife rehabber with the La. Wildlife and Fisheries. When I am not writing books, I am rescuing orphaned and injured wildlife.
Michelle: That's a really cool thing to do!
Can you describe Acadian Waltz in one sentence?
A story about leaning to let go of the expectations of others and following your heart.
Can you tell us how Acadian Waltz come about?
It was influenced by my life in SE Louisiana, and by being raised in a Cajun family as a young child. The culture is so pervasive in and around New Orleans, and the people are so colorful. One cannot help but write about them.
While you were writing, did you ever feel that you were one of the characters?
I think I always identify with the main female lead, and this being a first-person novel, I express bits of my personality through the eyes of Nora Kehoe.
Where is your favorite writing spot?
My bedroom where my computer is set up. That's where I physically write, but I am always writing away in my head, no matter where I am.
Have you written a book you love that you have not been able to get published?
No, I have been lucky.
What project are you working on now?
I am finishing up the edits on my next book, The Satyr's Curse. It's a supernatural love story about a man cursed so that "no woman can satisfy his lust, and no wine can quench his thirst", and is set for relaese May 1st. I have several more books coming out in the future, so I am always either writing a new book, or editing one about to be released. I like to stay busy.