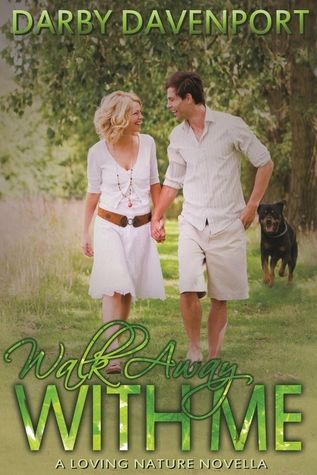 Walk Away With Me
Author:
Darby Davenport
Published Mar 19, 2013
Novella
Genre: Adult Contemporary
Source: eArc (In exchange for honest review)
Buy:
Kindle
,
Kobobooks
What is Charlie Rockwell supposed to do when the sad Rottweiler's eyes connect with hers through the TV screen and work their way straight into her heart? She adopts him without a second thought or the slightest knowledge how to take care of the large, needy dog with the traumatic past.

Ethan Porter is not happy when a savage Rottweiler picks a fight with his mild-mannered Golden Retriever at the dog park. But his anger quickly dissipates when tears begin to form behind the eyes of the dog's beautiful owner—eyes that are far too familiar for his liking. Disregarding his instincts, Ethan can't deny her plea when she asks him to teach her the basics of dog ownership.

Can he ignore the fact that she bears a strong resemblance to his ex and finally learn to trust again? Will she find committing to both man and dog more exciting than the freedom of a single, unrestrained life?

A man with a painful past, a woman who fears commitment, and a dog with only one more chance at life—together, can they find love?
Pet lovers, this is the story that might interest you! Yes, Walk Away with Me talks about dogs but not that much about dogs but also that drool worthy guy with a dog.

The story started with how Charlie decides to adopt a Rottweiler without knowing the basics of taking care of dogs. That's how her dog ended up picking up a fight with her neighbours Golden Retriever. Oh yeah! That's how the main characters met! Isn't it interesting?

The book has a good balance of romance and fun. It's definitely an enjoyable ride that Darby (or rather, Emily Chand) has came up for us. You'll be left rooting for Charlie and Ethan to be together. That's especially when a complete surprise came about!

So, if you really enjoy a quick and enjoyable romance ride, this is the book for you! The pets portion will be a bonus for you!