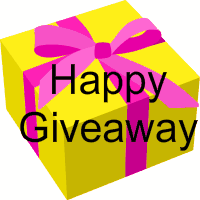 Just for Book Lovers like you!
This giveaway is international and open to all book lovers. It runs from today till the end of April 15 (see the countdown in the Rafflecopter form). 1 lucky winner will get an e-copy of A.M. Hargrove's Resurrection (The Guardians of Vesturon Series #2). This gift is from me to you. I will email the winner the coupon code for redemption after the giveaway has ended. Good luck everyone! (Remember to come back daily for more chances!)
Goodreads Summary:
"Maddie knew she was dying. Her life started to flash before her. She had visions of running down the soccer field, scoring a goal, eating her mother's yummy, homemade, sticky cinnamon rolls, standing in her foyer listening to the police tell her father that her mother had been killed in a car accident. Each vision was disturbingly clear—as if it was happening again."

Rayn Yarrister, the first-born son and Leader of The Guardians, has been imprisoned on Vesturon for breaking their most sacred of covenants. He is suddenly jolted by Maddie's telepathic pleas for help, as her life hangs in the balance. Can he alert The Guardians in time to save his soulmate? Or will he face his trial alone and broken without his one true love?

In Resurrection (Book 2), The Guardians of Vesturon are facing their biggest challenges as Earth is threatened by an invading species from a distant planet intent on destroying it for its resources. The Guardians, as protectors of the universe, have been assembled to defend not only Earth, but other vulnerable worlds as well. The Yarrister family is threatened by an unknown entity intent on discrediting them. Will they uncover this plot in time to save themselves from ruin? Will The Guardians succeed in stopping the Xanthians, or will Earth be invaded and ravaged by this marauding species?
Click here to read my review for Resurrection.
Haven't read Survival, book 1 in the series? Grab a copy here! | Read my review for Survival.
Not satisfied with just book 1? Grab a copy of the Prequel!
a Rafflecopter giveaway
About the author: A.M. Hargrove:
One day on her way home from work as a sales manager, A. M. Hargrove realized her life was on fast forward and if she didn't do something soon, it would quickly be too late to write that work of fiction she had been dreaming of her whole life. So, she rolled down the passenger window of her fabulous (not) company car and tossed out her leather briefcase. Luckily, the pedestrian in the direct line of fire was a dodgeball pro and had über quick reflexes enabling him to avoid getting bashed in the head. Feeling a tad guilty about the near miss, A. M. made a speedy turn down a deserted side street before tossing her crummy, outdated piece-of-you-know-what laptop out the window. She breathed a liberating sigh of relief, picked up her cell phone and hit #4 on her speed dial.
"Hello."
"Boss, is that you?"
"Why yes A. M., who else would be answering my phone?"
"Er… right. Well, I'm calling to let you know you can pick up my luxury Ford Focus at Starbucks near the interstate because I quit."
A. M. hit the end button and speed dialed her husband.
"Hi yummy hubby, can you pick me up at Starbucks?"
"Sure honey bunny… having some car trouble?"
"Not at all. I need a ride because I just quit my job."
"You WHAT?!"
"It's time for a new career and I am going to be a very famous novelist."
So began A. M. Hargrove's career as a young adult paranormal romance author of self-published ebooks.
Well, it didn't happen exactly like that. The real story is that after years as a successful sales manager in the world of pharmaceuticals, her company was gobbled up by a larger one and her career came to a screeching halt. Always one to look at the glass as being half full, she took the job loss as an opportunity to forge down the path of her life-long dream– that of becoming a writer. Her series, The Guardians of Vesturon, centers around a family of six siblings and is a mix of humor, mystery, suspense and of course, love.
Connect with the author:
http://www.amhargrove.com/
http://www.facebook.com/guardiansofvesturon
https://twitter.com/Amhargrove1