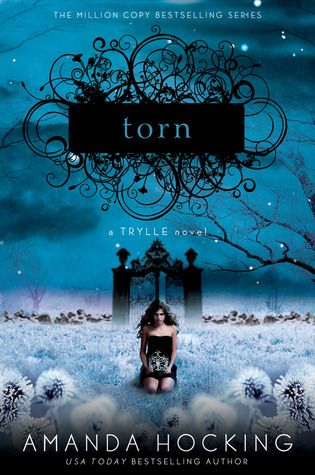 Genre:
YA Fantasy
Publication Date:
February 28, 2012
Format:
Paperback
Source:
Bought
Rating:
4/5 Stars
Buy:
Amazon
,
Book Depository
Goodreads Summary:
Amanda Hocking is an indie publishing sensation whose self-published novels have sold millions of copies all over the world. Step into the world of the Trylle, and prepare to be enchanted….

When Wendy Everly first discovers the truth about herself—that she's a changeling switched at birth—she knows her life will never be the same. Now she's about to learn that there's more to the story…

She shares a closer connection to her Vittra rivals than she ever imagined—and they'll stop at nothing to lure her to their side. With the threat of war looming, her only hope of saving the Trylle is to master her magical powers—and marry an equally powerful royal. But that means walking away from Finn, her handsome bodyguard who's strictly off limits…and Loki, a Vittra prince with whom she shares a growing attraction.

Torn between her heart and her people, between love and duty, Wendy must decide her fate. If she makes the wrong choice, she could lose everything, and everybody, she's ever wanted…in both worlds.

As a special gift to readers, this book contains a new, never-before-published bonus story, "One Day, Three Ways," set in the magical world of the Trylle.
My Opinion:
Torn continues after Switch which left off with Wendy and Rhys leaving Förening to go back to Florida to look for her brother Matt. Of course, Finn managed to keep up with her and her newly assigned tracker, Duncan, subsequently arrived but Wendy refused to go back with them. When the two men left, that was just the opening required by the Vittra and Wendy was severely injured and brought to the Vittra Palace. It came to a surprise that one of the "kidnappers", Loki, was very kind to her and called for a healer (who turned out to be the Queen) to heal Wendy. It was even more surprising when it was revealed the King of Vittra was Wendy's father (And I wasn't expecting this). Duncan, Finn and Tove rescued all three of them and Loki even let them go. This is pretty strange, why would a person let their enemy go? Wendy went back to confront her mother Elora and then later, Loki was caught... What did the King want from them? How would Wendy and Elora react to it? And why was she engaged?
In my opinion, Torn is a smoother read when compared to Switched. Moreover, there's definitely more action from being kidnapped to being rescued and then the counter actions.
What surprises me most in this book is Loki. He's a Vittra but he's actually helping Wendy escape by not retaliating and then complying to her wishes. And when he was later captured by guards in Förening, Wendy reaction strongly to the execution calls. It really seems like there is something more to this Loki character and I really like him.
Finn on the other hand was a little bit of disappointment. "How could he?" This question always ran through my mind as I read some scenes involving him and Wendy.
Nevertheless, I've totally enjoyed Torn. Be sure to read what Wendy has sacrificed in this book.
4/5 Stars for Torn. Really looking forward to Ascend and hope it will be a beautiful ending!
Quotes:
- He stepped into my room with one graceful move, as if entering through bedroom windows was nothing out of the ordinary.
- "I don't know. After the downstairs, I assumed something creepier and dirtier." I
shrugged. "You didn't have electricity down there."
"It's for dramatic effect." Loki gestured widely. "It's a dungeon."
- "Did you change your mind and decide to execute me?" Loki asked, looking us over. "Because you all look like you're going to a funeral."
"Not now," I said, figeting with my bracelet and watching the clock.
"Then when, Princess?" Loki asked. "Because we only have about fifteen minutes until I leave."
I rolled my eyes and ignored him.