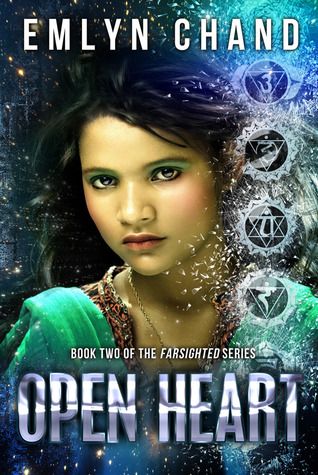 Open Heart by Emlyn Chand
Series: Farsighted #2
Kindle Edition
Published May 25th 2012 by Blue Crown Press
Genre: YA Paranormal
Source: Provided by author in exchange for honest review.
Rating: 4/5 Stars
Buy:
Amazon Paperback
,
Amazon Kindle Book
Goodreads Summary:
Simmi Shergill's life is a mess. Her powers of psychic feeling are on the fritz, and Grandon Township's sudden population boom has brought quite a few unsavory characters to town. She also looks like an over-blown balloon in her size 14 pants, but not even starving herself seems to be working as a diet plan. Well, at least her boyfriend, Alex, loves her so much he'd do anything for her. Last summer he even risked his life to protect her from the mysterious boy everyone was convinced wanted to kill her.
The problem is, she's not so sure she feels the same way. Is Alex really the man of her dreams? And why can't she stop fixating on her would-be killer, Dax? Whenever he's around, part of her wants to run screaming in the other direction while the other part longs to run into his embrace, no matter who she'd hurt or what she'd risk.
Simmi's loyalty is on the line. Who will she choose—the blind seer who loves her, or the charming telekinetic with "bad idea" written all over him? Emotions run high as the tension mounts in book two of the Farsighted series.
---
My Opinion
If you have enjoyed Farsighted, you'll definitely enjoy Open Heart too! Expect the unexpected again. If you thought that Open Heart would be told in Alex's POV you are totally wrong! This time, the story is told from Simmi's perspective and it continues on from Farsighted. So, if you haven't read Farsighted, be sure to read it first!
Simmi's danger was over. There's no more visions haunting Alex. Right now, Simmi's main concerns were her size, her powers and her feelings towards her boyfriend's nemesis, Dax. In addition, there was a sudden population boom within the town and there was a shortage of space within their school. What's with the sudden construction of condo within their small town?
This is a book about self-worth and self-love. A big portion of the book is about Simmi's diet, how she avoided food and how she tried to get them out of her system. I find myself cringing every time she did that. I do understand why she would want to do that. Alex was still sweet to Simmi's in Open Heart and I smiled whenever there's a scene about them. I can feel Simmi's gradual shift in feeling but I'm not angered by it. Perhaps it's because of the way the author wrote the story, it felt as if Simmi had explained whatever feelings she had. So I'm not surprised with the ways things turned up. Will she return to Alex or will she choose someone else? You'll have to read it to find out!
There's more about their gifts in Open Heart than in Farsighted. This time we get to add Dax into the story and how he used his gifts. We also get to know more about the mysterious and dangerous Dax and how life was for him in the Kosmitoras family.
There's an additional complication within the story. We now have a new unknown enemy that came together with the influx of people into the town. How did it affect the gang and how will they react? I'm not telling of course! Which is why you will have to get the book to find out more! :D
Overall, Open Heart is an enjoyable book about self-worth and Simmi's journey to accepting herself and her gifts. Again, this book is recommended to those who have enjoyed reading Farsighted as well as those who love reading paranormal books. Warning: lots of kisses in the book. :D And um... graphic description of eating disorders.
---
Quotes
(Taken from eARC and may be subjected to revision)
"Friends accept each other for who they are.
I giggle nervously and hope my weight isn't crushing him. "How can something feel beautiful, Alex? That doesn't make any sense."
I attempt to roll sideways to curl up next to him, but he holds tight to my waist, prohibiting the motion.
"How can it not be? Anything can be beautiful--a scent, a sound, a sensation, a feeling..."

"I'm the Bachelor. Simmi, will you accept this rose? He picks the flower up from his lap and pushes it toward me.
"Of course, but I much prefer your origami roses," I confess as I pluck the flower from his outstretched hand.
"Sorry, I was aiming for authenticity. C'mon, keep going. I have a great night planned."
---
Buy: