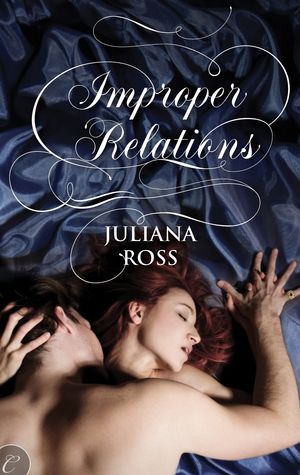 Improper Relations by Juliana Ross
ebook
Published April 23rd 2012 by Carina Press
Genre: Historical Romance [Mature]
Source: eARC from NetGalley provided by Carina Press
Rating: 4/5
Buy:
Amazon Kindle Book
,
Carina Press
Goodreads Summary:
Dorset, 1858
When Hannah's caught watching her late husband's cousin debauch the maid in the library, she's mortified -- but also intrigued. An unpaid companion to his aunt, she's used to being ignored.
The black sheep of the family, Leo has nothing but his good looks and noble birth to recommend him. Hannah ought to be appalled at what she's witnessed, but there's something about Leo that draws her to him.
When Leo claims he can prove that women can feel desire as passionately as men, Hannah is incredulous. Her own experiences have been uninspiring. Yet she can't bring herself to refuse his audacious proposal when he offers to tutor her in the art of lovemaking. As the tantalizing, wicked lessons continue, she begins to fear she's losing not just her inhibitions, but her heart as well. The poorest of relations, she has nothing to offer Leo but herself. Will it be enough when their erotic education ends?
---
My Opinion
This is one book that you can finish in one sitting--a perfect quick historical romance read for those who enjoy this genre.
Improper Relations is a story told from Hannah's POV. She's a widow and an unpaid companion to her husband's aunt. She caught Leo, her husband's cousin, together with one of the housemaids in the library while she was still in it but she never left. Intrigued, she could only watched in curiosity. Never did she know that he was aware of her presence! What will you get when you put a wicked lord together with a curious lady?
I like Hannah's character. She's brave in a way, admitting her curiosity to Leo when he called her down from her hiding place and even more so when she allowed him to demonstrate certain things. So things went on and good things often comes to an end sooner or later. There were decisions Hannah had to make and I had to applaud her for that.
Leo the wicked Lord indulged in Hannah's curiosity. He was a playboy and good-for-nothing as per Hannah's knowledge. It came to me as a surprise as to what he had and could do though I shouldn't be too surprised because there's emphasis of him being a wastrel second son of a Marquess... Nevertheless, I still have a soft spot for romantic characters.
However, I do feel that the ending was a rushed, never going into much details about the aftermath except for a short epilogue. Overall, Improper Relations is a steamy historical romance reads with great characters and is recommended to all who enjoys reading this genre. I'm looking forward to reading more from the author.
---
Quotes:
(Taken from eARC and may be subjected to revision)
He took a sip and then lifted the tumbler to examine its contents. "You might as well come down and join me."
At last I found my voice. "I'm afraid I don't partake of spirits, Cousin Leo."
"Then don't have a drink. But please stop quivering up there like a frightened rabbit."
"You are pretty," he continued. "It's your dress that is plain. That, and you pull your hair back so severely. No one looks beyond it. All they see is a little brown sparrow. I alone know the truth about you."
---
Read the excerpt
here
.
Buy: