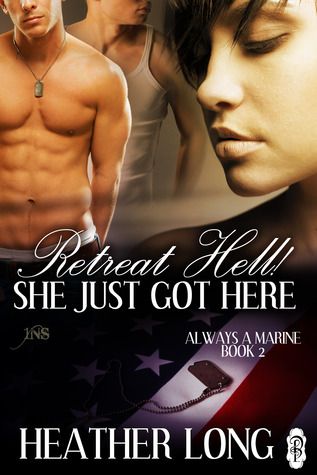 Retreat Hell! She Just Got Here
Series: 1 Night Stand, Always A Marine, #2
ebook
Published April 21st 2012 by Decadent Publishing, LLC
Genre: Adult
Source: From publisher in exchange for an honest review
Rating: 3/5 Stars
Buy:
Kindle
,
Decadent Publishing
Goodreads Summary:
She's one of the few…
Jazz has been one of the guys for over a decade, serving her country with distinction, but she longs to explore her femininity, to be desired as a woman, to flirt, cavort and fulfill every sexual desire. When her mother, of all people, signs her up for a 1Night Stand, she's not sure whether to be exhilarated or pissed. She flew all the way to Las Vegas on the promise of a total escape, to be Jasmine for just one night, because tomorrow, she plans to re-up for another five years.
They're two of the proud…
Logan Cavanaugh grew up across the street from his best friend and 'brother' Zach Evans. Inseparable, the two shared everything until a year before when an IED attack took out the Humvee they traveled in with Colonel Dexter. Zach suffered a concussion, but Logan's injuries were far more extensive. After a year of physical therapy, he can walk, but he'll never run or love a woman again, or so he fears. Logan seemed ready to accept his impotence until Zach came home. Now the 'brothers' are in Vegas to meet the perfect woman, the woman who can heal Logan's confidence and masculinity.
They're all Marines…
They've shared everything, but will one night be enough?
---
My Opinion
Meet Jazz, the lady who serves her country proudly but is treated as one of the guys. Meet Logan and Zach, both marines and best friends close enough to share everything, even women. All three of them are Marines and all three happened to sign up for 1Night Stand Service.
The story is definitely enjoyable. It is super hot and filled with steamy scenes. Although enjoyable, I find that there seems to be a lack of emotional connection among the characters. It starts with a little brief description about the characters and when they met at the hotel room--BAM--things get heated up immediately and continues from there. *cues lots of actions*
Overall, this is a fast passionate adult romance read, filled with lots and lots of steamy actions. This book is best suited to mature readers who enjoys reading within the genre and is comfortable with multiple partners.
---
First paragraph:
The toe ring felt damned weird. It rubbed, and despite the clucking of the woman painting her toenails, Jazz couldn't stop wiggling.
---