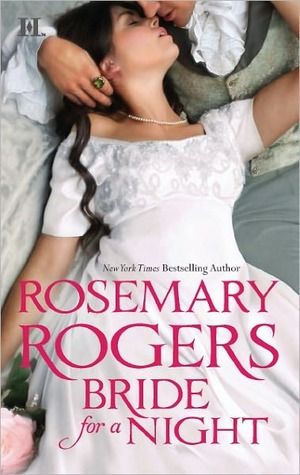 Bride For A Night by Rosemary Rogers
Mass Market Paperback, 384 pages
Published September 20th 2011 by Harlequin
Genre: Adult Historical Romance
Source: Overdrive
Rating: 4/5 Stars
Goodreads Summary:
After Talia Dobson is jilted at the altar, she endures another humiliation: a substitute groom! The elder brother of her runaway betrothed has taken matters into his own hands. Shy Talia has long held a secret attraction for Gabriel Richardson, the handsome Earl of Ashcombe. But when she's wedded, bedded and dispatched alone to his country estate, the timid beauty discovers one night of passion has ignited a bold inner fire.
While his lovely green-eyed bride is out of sight, she is not far from Gabriel's mind and when Talia is abducted by French spies, the earl fears he may lose what he's only just found. Yet the wife he races to rescue is a far cry from the gentle bride he abandoned. She's a woman who dares to demand forever after from her husband.
---
My Opinion:
I had to shake my head at Gabriel's actions at the beginning of the book. The rest? I'm totally glad to see that he has come around and realize what he was feeling. I was cheering on for Talia throughout the whole book. I find that Talia was a tough character. She endured the humiliation and took everything in stride even though she was cast aside after her marriage. Despite all these, Talia did not wallow in self-pity but continued to be strong and soon gained the respect of her husband's staff. The story is enjoyable and filled with little surprises. The story turned pretty good from when she was abducted by French spies and got even better with the rescue. This story is definitely for those who enjoy a little escape into historical romance!
---
Quote:
"I did not expect you."
"Obviously." He stopped directly before her and lowered his hand to tug at the ribbon of her hideous robe. "Or did you choose this garment in the hopes it would send me fleeing in terror?"


"Your instincts are growing slow with your old age, Ashcombe." Hugo made a show of returning his dueling pistol to the pocket of his dark cloak he had pulled over his pale green jacket and gray breeches. "I could have used you for target practice."


"Hugo did mention you were reluctant to leave until he convinced you that it would be best to have you safely away from the danger."
"He did not convince me. He threatened to knock me over the head with the oar if I attempted to escape from the boat."
---
About the author: Rosemary Rogers