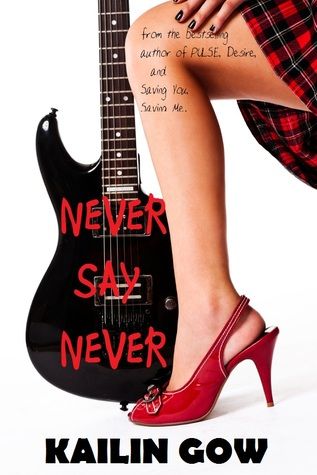 Never Say Never by Kailin Gow
Series: Never Knights #1
Paperback, 245 pages
Published August 13th 2012 by theEDGEbooks.com
Genre: New Adult
Source: Bought
Rating: 4/5 Stars
Goodreads Summary:
What girl wouldn't want to be surrounded by the sexy guys from the hottest teen rock sensation in the country? 18-year-old Never "Neve" Knight, not only is surrounded by the hottest boys to hit the music charts, but she is the band's lead singer. As the band's lead singer and manager, Never formed and shaped the band to where it is today, a band on the rise and on the brink of being signed by a label. As one of the guys, she knew each of the band members since they were all snot-nose ten-year-olds. While her boys were the cutest guys and they would protect her like knights, she couldn't date any one of them and ruin the chance at being signed with the record label of her dreams.
That changes when one of the band members suddenly drops out of the band, and in walks Danny Blue, with his dreamy blue eyes, hot body, and British accent. Suddenly, Never's solid world has turned to mush, and her rule for not dating one of her band members is seriously challenged. Can she keep her head straight and get her band signed with a label without losing her heart?
---
My Opinion:
Kailin has created another wonderful book with great characters. The story flowed very naturally and I find myself being absorbed into the book. It was definitely a page turner for me as I kept wanting to find out what will happen to Neve, the daughter of a rock star father. However, she never once tried to use her dad's name to bring her band to fame and I truly admire her determination. She also kept her band a secret from her father from fear he would ban her from playing. And goodness, those band mates of hers were totally cool, each with their own unique personality. It was obvious all of them likes Neve but she has a strict policy of no dating within the band since she has seen what it has done to other bands. However, when one accident led to Geoff being dropped out of the band and a new band member came in... she's so going to break her own rule. Danny? Danny who? Why is there a sort of instant attraction to him? Even I look forward to following him throughout the book. I'm definitely waiting eager for the second book in the series to read more about all of them!


---
Quotes:
"I was stranded last night – I mean, this morning. And I couldn't get home and my phone was dead so I went back in to find you but you were asleep, and, uh..."
"Unclad?" Danny couldn't help but betray a hint of a smile. One hell of a sexy smile.


"Well, I feel better knowing Kyle's with you," my mother admitted. "He's at least sensible, as opposed to my stubborn, hot-headed little girl..."
"I prefer the term 'passionate'," I smiled.


"Out!" My mother declared, and my dad sighed and shuffled away. "Our daughter needs her Mommy, don't you, sweetie?"
"Goodnight, Crabcakes," my father said. "I can see where I'm not needed. Just time me where to send the hit men."
---
About the author: Kailin Gow