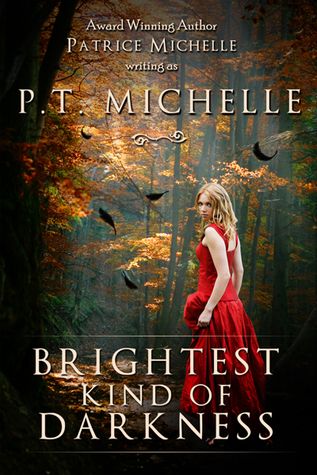 Brightest Kind of Darkness
By P.T. Michelle
(Brightest Kind of Darkness #1)
Published on 27 June 2011
Publisher: Patrice Michelle
Genre: YA Paranormal
Format: ebook
Source: From author via blog tour
Rating: 5/5 Stars
Goodreads Summary:


Nara Collins is an average sixteen-year-old, with one exception: every night she dreams the events of the following day. Due to an incident in her past, Nara avoids using her special gift to change fate…until she dreams a future she can't ignore. After Nara prevents a bombing at Blue Ridge High, her ability to see the future starts to fade, while people at school are suddenly being injured at an unusually high rate. Grappling with her diminishing powers and the need to prevent another disaster, Nara meets Ethan Harris, a mysterious loner who seems to understand her better than anyone. Ethan and Nara forge an irresistible connection, but as their relationship heats up, so do her questions about his dark past.

Brightest Kind of Darkness is a captivating book and totally sucked me into the world of Nara and her ability to dream what would happen on the next day. I would think that this is a freaking awesome ability and of course Nara made full use of this to avoid certain nasty situations. She was troubled when she dreamt about a bomb case in her school and worried about it being just a dream. But she reported in anonymously anyway, and that's when everything weird and dangerous started. And this Ethan was totally mysterious. Did you know he's good with animals? Totally cool!
I simply adore the book! Every page is pure awesomeness and action. There's never a dull moment in the book and you have to keep turning the pages anxiously to find out what's going to happen to the characters. I like the author's writing style and I felt that I was able to connect with the characters and feel what they are feeling in the story. The author also did a great with Ethan and how she introduced him into the book and the role he held. I didn't see it coming at all! Great job!
I can't wait to read Lucid and find out why everything is actually happening. Oh, more mysteries! Paranormal lovers will certain enjoy this book!
ABOUT P.T. MICHELLE
P.T. Michelle is author of the young adult series
BRIGHTEST
KIND
OF DARKNESS. When P.T. isn't writing, she can usually be found reading or taking pictures of landscapes, sunsets and anything beautiful or odd in nature.