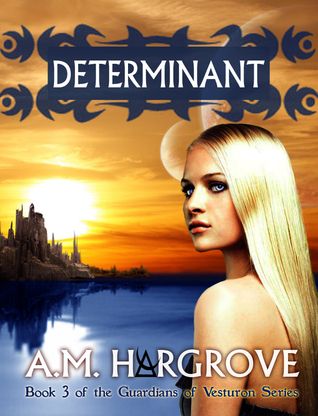 Determinant by A.M. Hargrove
Series: Guardians of Vesturon #3
ebook, 1st, 377 pages
Published June 30th 2012
Genre: YA Fantasy
Source: Review copy from author in exchange for honest review
Rating: 5/5 Stars
Goodreads Summary:


January St. Davis, on her own since the age of sixteen and struggling to stay in college, thinks she's scored in a major way when she lands a paid summer internship at the Centers for Disease Control and Prevention in Atlanta. One evening, after working an especially long shift, a chance encounter with a group of mysterious men alters the course of her life.




Rykerian Yarrister, a Guardian of Vesturon with unearthly powers and impossibly gorgeous looks, finds himself at odds over the human female he recently saved from certain death. When it seems he is on the verge of winning her over, she is ripped from his hands by a strange and powerful being, threatening to destroy her if his demands are not met.




Do Rykerian and the Guardians have the ability to meet this fierce barbarian's ultimatums, or will January suffer a horrid demise?
I must say that this is my favorite book from the series! It's goodness in every page! While it is good to read the first two books before heading onto Determinant, it can also be read as a stand alone but I'll still advise you to read the first two books because they are good! Besides, you'll be able to appreciate Determinant even more if you follow the series!
Having a family that doesn't love you back sucks. It's pretty bad and January was one of those whose family didn't even care for her at all. They kicked her out of the house the moment she graduated. How bad could that be? Oh, definitely contacting some virus that was spreading around the town. Yucks. Luckily, she had help from Rykerian. I was so ecstatic to read their development and was looking forward to reading scenes with them. *grins* Rykerian is possessive! And sweet! I can't help but liking his character.
Overall, Determinant is definitely a good read, much better than Survival and Resurrection in my opinion. Well, at least the bad guy wasn't really that bad and that made him an interesting character. I'm hoping that there will be another book for the series! And I definitely won't miss it!
First paragraph:
The six men moved through the city streets in a triangular formation. Not a single soul paid them a bit of attention. Dressed unusually, even for a large metropolis such as Atlanta, they were donned in snug black leather pants, black vests and bare chests. They looked like a scene from a fantasy movie. Their bare arms were heavily tattooed and their hands were covered in black gloves. However, the few that glanced their way didn't notice any of that. Utilizing an advanced form of technology, unknown to humans, the men had altered their appearance and speech. To anyone watching, they appeared as six jean-clad men in their late teens--college students perhaps out for a night of fun.
Stalk the Author: A.M. Hargrove