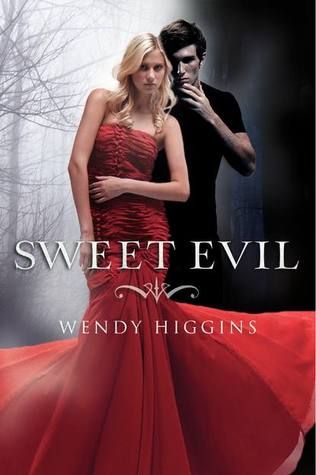 Sweet Evil by Wendy Higgings
Series: The Sweet Trilogy #1
Paperback, 453 pages
Published May 1st 2012 by HarperTeen
Genre: YA Paranormal
Source: Bought
Rating: 5/5 Stars
Embrace the Forbidden

What if there were teens whose lives literally depended on being bad influences?

This is the reality for sons and daughters of fallen angels.

Tenderhearted Southern girl Anna Whitt was born with the sixth sense to see and feel emotions of other people. She's aware of a struggle within herself, an inexplicable pull toward danger, but Anna, the ultimate good girl, has always had the advantage of her angel side to balance the darkness within. It isn't until she turns sixteen and meets the alluring Kaidan Rowe that she discovers her terrifying heritage and her willpower is put to the test. He's the boy your daddy warned you about. If only someone had warned Anna.

Forced to face her destiny, will Anna embrace her halo or her horns?
I knew I had to read this book when I saw the cover months ago and I pre-ordered it immediately without thinking. Oh and I didn't regret my impulse buying because Sweet Evil is absolutely fantastic! The only regret that I have is not reading it much earlier!
Everything about the book is good! The beginning was captivating and it left some questions in my mind. I had to continue reading to find out what exactly happened at the beginning. Sweet Evil is told in Anna's POV and I like her tone. She just compelled me to continue reading about her story. And Kaidan... He's a character you should look out for!
The concept of Sweet Evil is unique. I'm intrigued by the angel hierarchy and how there are different fallen angel for different sins. Though I'm not really pleased about the ending, I'm still looking forward to the sequel!
Purchase:




About the author: Wendy Higgins