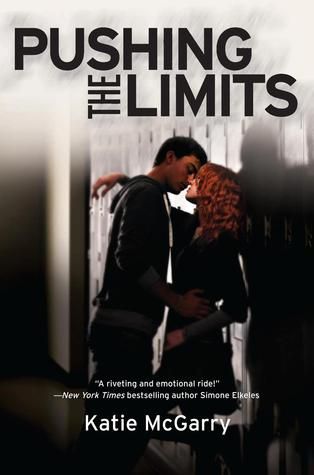 Pushing The Limits by Katie McGarry
ebook, 409 pages
Published July 24th 2012
Genre: YA
Source: eARC from publisher
Rating: 5 Stars



SO WRONG FOR EACH OTHER...AND YET SO RIGHT.




No one knows what happened the night Echo Emerson went from popular girl with jock boyfriend to gossiped-about outsider with "freaky" scars on her arms. Even Echo can't remember the whole truth of that horrible night. All she knows is that she wants everything to go back to normal.




But when Noah Hutchins, the smokinghot, girl-using loner in the black leather jacket, explodes into her life with his tough attitude and surprising understanding, Echo's world shifts in ways she could never have imagined. They should have nothing in common. And with the secrets they both keep, being together is pretty much impossible.




Yet the crazy attraction between them refuses to go away. And Echo has to ask herself just how far they can push the limits and what she'll risk for the one guy who might teach her how to love again.
I adore both main characters! Both Echo and Noah has serious problems. Echo couldn't remember what happened on that horrible night and Noah had troubles getting back to his brothers. Somehow, the two of them got closer to each other and they turned out to be good!
Katie has a great cast of characters and they supported the main characters very well, especially the clinical social worker. I also enjoyed the tense moments within the book and especially that emotional moment that Noah had closer to the end of the book.I think I cried a little over that. That's how great the book was and it is so totally worth reading this book!
This is a moving story which you shouldn't miss! I highly recommend Pushing The Limits to everyone!
Quote from Pushing The Limit:




"If you're scared, tell me. If you need to cry and scream, then do it. And you sure as hell don't walk away from us because you think it would be better for me. Here's the reality, Echo: I want to be by your side. If you want to go to the mall stark naked so you can show the world your scars, then let me hold your hand. If you want to see your mom, then tell me that too. I may not always understand, but damn, baby, I'll try."




"I watched you battle against the worst memory of your life and I watched you win. Make no mistake, Echo. I battled right beside you."



About the author: Katie McGarry