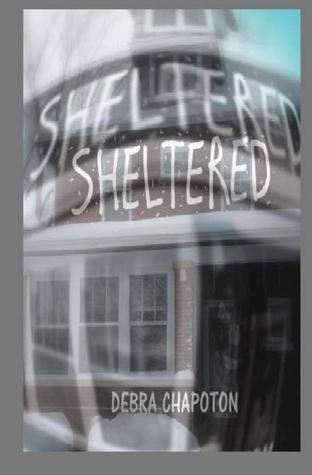 Sheltered by Debra Chapoton
Kindle Edition, 236 pages
Published October 2012 by Big Pine Lodge Books
Genre: Paranormal
Source: From author in exchange for honest review
Buy:
Amazon
|
Kindle
|
Book Depository



Living together unsupervised, five troubled teens confront demonic forces and are compelled to deal with their problems in distinctly different ways. Paranormal meets psycho meets Goth in this story of a supernatural haunting and budding love.




High school junior, Ben, hacks into his step-father's real estate holdings and provides rooms in an old two-story house to various outcasts: the schizophrenic kid, the angry Goth girl, and the homeless girl who worships him. When Megan needs a place to live she comes to the rooming house with a different set of problems and the ability to confuse and attract Ben.




One by one strange and mysterious occurrences stretch the teens' beliefs in the supernatural. How they deal with demons, real and imagined, has tragic as well as redeeming consequences.
RATING: 3.5 Stars out of 5
Sheltered is about a group of teenagers living together, each with their own set of problems. There's Ben, whom I initially thought was the bad guy from all his suspicious actions. There's Cori who is practically mean to everyone. There's the twins--Adam and Chuck with a problem that you wouldn't realize at the beginning. And there's Emily, who likes Ben and seems to be always cutting herself. Last but not least, there's a new girl, Meghan, and she has a secret.
Sheltered is pretty easy to read and it came to a surprise for me when it got to the paranormal part. Guess I didn't read too much into the book summary! The author did a good job in highlighting each characters' problems and the switch in POV allows me to get insights into each character's thinking. However, the paranormal element was a little confusing for me. There were some questions that were unanswered, like where did the demon come from and also, I believe more information about the social worker would greatly deepen the plot.
If you love creepy stuff, this book will be great for you. Just read about the ouija board!