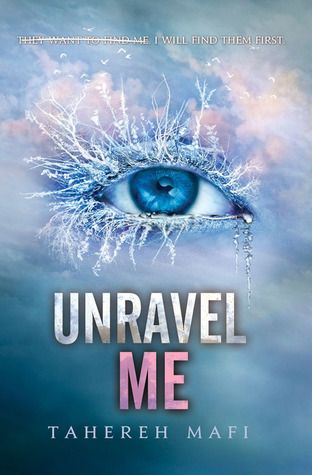 Unravel Me
Author:
Tahereh Mafi
Series:
Shatter Me #2
Published February 5th 2013
Genre: YA Paranormal/Dystopia
Source: Borrowed
Buy:
Amazon
,
Kindle
,
Book Depository

tick
tick
tick
tick
tick
it's almost
time for war.

Juliette has escaped to Omega Point. It is a place for people like her—people with gifts—and it is also the headquarters of the rebel resistance.

She's finally free from The Reestablishment, free from their plan to use her as a weapon, and free to love Adam. But Juliette will never be free from her lethal touch.

Or from Warner, who wants Juliette more than she ever thought possible.

In this exhilarating sequel to Shatter Me, Juliette has to make life-changing decisions between what she wants and what she thinks is right. Decisions that might involve choosing between her heart—and Adam's life.
Shocking! Shocking! Shocking!

Unravel Me is full of shocking findings! I'm totally blown away by the book and the surprises within it. Unravel Me continues the plot from Shatter Me after Juliette escaped to Omega Point and how she adjusts to the new life inside there. It's not easy when her a single touch from her can cause pain to others and even death.

The plot is well planned and I'm brought into the world of Juliette, Adam and Warner. What surprises me most was the parts with Kenji in it. He played a major role to help Juliette adapt inside Omega Point and to gradually get people in the Omega Point to accept the newcomers.

We find out more about the powers that Juliette, Adam and even Warner has and believe me that the answers will definitely shock you! Like I did! Too bad the book ends in a cliffy and I'll have to wait till 2014 for the next installment. Well... I guess good things are worth waiting for! Go read the series if you haven't done so!