Faking It
Author:
Diane Alberts
Published 11 March 2013
Genre: Adult Contemporary Romance
Source: eARC; Entangled Publishing
Buy:
Amazon
,
Kobobooks
Derek Rory never meant to propose to his best friend's little sister. But when her boss tells a family-oriented investor he's Stephanie's fiancé, Derek can either play along or let her get fired. He's hardly one to turn away from a damsel in distress. If only that damsel wasn't adorable and sexy with a laugh that could melt any cold business mogul's heart.

When a business proposal becomes a marriage proposal, Stephanie Miller tries to keep it strictly boardroom. But when things get hot under the table, it's all they can do to stay apart. As the tangle of lies drags them deeper into the underhanded world of business politics, Stephanie finds herself in over her head—not just with her job, but with her "fiancé." His eyes are cold, but his kisses light her on fire. If she's not careful, she'll end up faking her way into a real romance.
Reading Faking It is definitely a pleasure! It made me smile and laugh along with the characters' actions/thoughts. I love how her characters are so sweet and witty!

The circumstance in which Stephanie an Derek meet was totally amusing! She even thought that he was stalking her while she was on her way to meet her brother, Aaron, in a restaurant. Turns out that Derek and her brother were actually friends and that her brother actually planned their meeting for a purpose. To make things even worse, Stephanie actually left an important document behind and Derek kindly brought it to her office, only to be made her fiance by Stephanie's boss just to please their client. How devious! But that's how the story continues!

I love the humor in the story, especially the way Aaron uses his super spy status to track them down. That was funny! The chemistry between Stephanie and Derek was well done and definitely believable. Derek is a character that will slowly make you like him for the way he is. I really enjoyed reading Faking It and laughing along with the story. I'm now hoping for a sequel!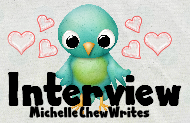 Hi Diane, welcome to Michelle Chew Writes. Can you tell us a bit about yourself?
Thank you for having me!! I'm a mother to four, wife to one—oh, and I write romance books! Can't forget that!
Could you describe your latest book, Faking It, in one sentence?
Derek never meant to propose to his best friend's little sister, but he also didn't expect to fall for her.
Where did you get the inspiration to write Faking It?
I love stories where the couple are pretending to be in love. It just creates such a tense, fun atmosphere. It's so hard for them to remember it's all pretend—especially when the sparks are flying!
If you gave one of your characters an opportunity to speak for themselves, what would they say?
Derek would thank everyone for loving his story, and for believing in him just like Stephanie did. Without that, he would still be locked in his tight, tiny shell.
Do you have a certain writing routine?
I need coffee and Pandora! I can't write without music, but it has to be certain music. I have a Maroon 5 station on Pandora that is PERFECT for writing. I tuned it over months, liking the appropriate songs, and now it's flawless! :)
Thanks for answering my questions. :)
Thank you so much for having me here again!
Connect with the author: