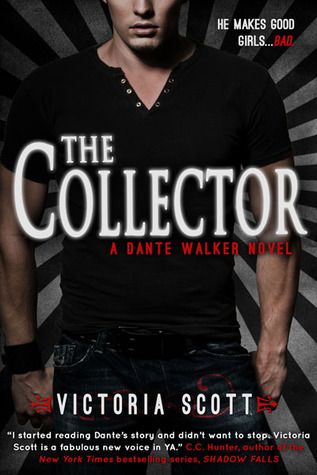 The Collector by Victoria Scott
Author:
Victoria Scott
Series:
Dante Walker #1
Paperback, 352 pages
Published April 2nd 2013 by Entangled Teen
Genre: YA Paranormal
Source: eArc (In exchange for honest review)
Buy:
Amazon
,
Kindle
,
Kobobooks
,
Book Depository
He makes good girls...bad.

Dante Walker is flippin' awesome, and he knows it. His good looks, killer charm, and stellar confidence have made him one of hell's best—a soul collector. His job is simple: weed through humanity and label those round rears with a big red good or bad stamp. Old Saint Nick gets the good guys, and he gets the fun ones. Bag-and-tag.

Sealing souls is nothing personal. Dante's an equal-opportunity collector and doesn't want it any other way. But he'll have to adjust, because Boss Man has given him a new assignment:

Collect Charlie Cooper's soul within ten days.

Dante doesn't know why Boss Man wants Charlie, nor does he care. This assignment means only one thing to him, and that's a permanent ticket out of hell. But after Dante meets the quirky Nerd Alert chick he's come to collect, he realizes this assignment will test his abilities as a collector…and uncover emotions deeply buried.
This book is a fun read. Did the first line of the summary catch your interest? He makes good girls... bad. Oh... Dante, you're a seriously a killer boy (literally).

The paranormal element in the summary got me real bad and not to forget about the really bad boy Dante Walker. Even his name sounds so cool and fits his image. So, he's a soul collector who's given a big assignment by Boss Man. However, he didn't seem to know what was so special about his new target who seemed rather plain and normal--the goody nerdy girl Charlie Cooper. In order to get her soul within ten days, Dante sought to corrupt Charlie in whatever ways he could so that he could "award" her with those red stamps. A nerd and a bad boy... Things could go very wrong but yet right.

There are twists and turns in the book that really caught me by surprise. I couldn't help but have some questions when I've finished the book. Don't get me wrong, The Collector is an interesting read and I felt that Dante's inner conflict was well-written and you slowly get to know more about him as the story progresses. Charlie, on the other hand, is the perpetual good girl next door who stand firms on her believes. Put the two of them together, you'll get a fun read. Plus, there's an unexpected couple in the book which let me gaping in surprise. Great job there!

If you like paranormal read, this may just be the book for you!