Proud to Serve Her by Heather Long
Series: Always a Marine #4
ebook, 109 pages
Published June 26th 2012 by Decadent Publishing Company, LLC
Genre: Adult
Source: Review copy from publisher in exchange for honest review
Rating: 4/5 Stars
Goodreads Summary:
Damon Sinclair is a simple Marine with simple needs and after five years of active duty in the sandbox, he's ready to settle down and feed people's souls. But when the rest of his Brothers sign up with the 1Night Stand dating service, the opening night of his new restaurant includes a date with Madame Evangeline's hand picked choice.
Helena Blake has focused her entire life on her education and legal career. But, there must be more to life than legal briefs and the Styrofoam take-out palace decorating the interior of her refrigerator. And finally, a year after signing up for the 1Night Stand service, Eve has found her a date.
Wine is poured, incredible food is served, and sparks fly creating a total seduction of the senses as Damon prepares a birthday celebration that Helena will never forget.
---
My Opinion
I love it when there are references made to the earlier books in the series because I want to read more about the characters. There were some references but not too much and there wasn't a lot of interaction between the past and current characters. *sigh*

The owner of the restaurant, Damon, had a date with a lady arranged by Madame Evangeline's 1Night Stand Service. However, Helena was running late and Damon wasn't very happy about it. So, when she arrived, and he showed her to the table, she assumed he was the waiter and he just decided to play along...

I find the scenario a little funny. An owner who was mistaken as a waiter? Can you imagine how awkward it was for the owner to actually correct her? I find Helena a little daring to confess about her experience and how Damon responded to that. Overall, the author did a good job again with the series. Hope to see more reference to other characters in the series for her future works!
---
Opening Paragraph:
"Needs a cup of Bailey's and a dash of cayenne, John-John." Damon Sinclair handed the large wooden ladle back to an assistant and moved on to check the cornbread coming out of the triple ovens in the back of the bustling kitchen. Opening night hummed in the kitchens with every swing of the doors as waiters and waitresses rushed in, dropped off orders then picked up piping hot food to rush it back out.
---
Books in the Always a Marine series:
---
***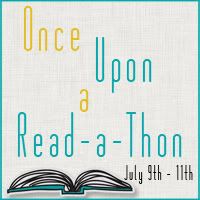 I read this book as part of the above Readathon