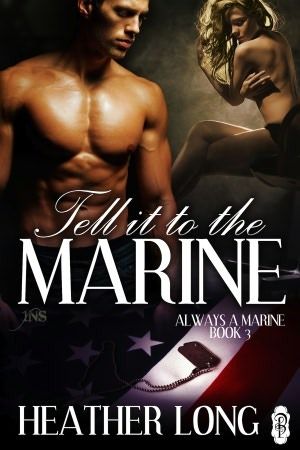 Tell It To The Marine by Heather Long
Series: 1 Night Stand, Always A Marine, #3
ebook
Genre: Erotica
Source: From publisher in exchange for an honest review
Rating: 4/5 Stars
Buy:
Kindle
,
Decadent Publishing
Goodreads Summary:
PFC James Westwood isn't a typical Marine. As a clinical psychologist, he recognizes his band of brothers needs a helping hand after their return home from the war. When his boss, Captain Dexter, encourages him to sign up for the 1Night Stand dating service, Westwood committed himself. What did he have to lose?
The last thing he expected was a date with screen goddess Lauren Kincaid.
Movie star Lauren Kincaid grew up splitting her time between the cold reality of the Hollywood scene and her family home in Plano, Texas. After two decades surrounded by artificial friendships and inflated egos, her greatest desire is to meet a real man, not a Hollywood talking head. When her agent suggests a 1Night Stand date, the only expectations Lauren allows herself to have are discretion and exclusivity. What she didn't expect was having a gorgeous psychologist with rapier wit blow her away.
Everyone needs someone to hear them.
James and Lauren share an unmistakable connection, but when one of James' patients suffers a crisis, Lauren more than proves her mettle. Can one night turn into happily ever after for this Marine and his movie star?
---
My Opinion
Oh yum! I love the slow build up of the whole novella. It allows us to read more about the characters' personalities, which I really appreciate. (Because I'm not a big fan of characters jumping at each other straight away the moment they met).
The novella starts with a troubled man seeking the help of our main character James Westwood, who is a psychologist. James signed up for the 1Night Stand Service and imagine his surprise when he sees movie star Lauren Kincaid. I really salute her agent for the ability to encourage Lauren to sign up for the 1Night Stand Service. I mean... It could get really ugly when people found out about it, being a star and all. Luckily for her, it didn't happen even though it could get a little exciting. Their little date was interrupted when there was a call for James which leads us to a little crime scene of the unstable man. What will happen to their date? Will it end there?
Totally enjoyable with great story build up. I'd really love to read much more about James and Lauren. I think both characters are really great and have potential to develop much further. Yay for the author! I recommend this novella to those who enjoy a fast romance read.
---
First Paragraph:
James Westwood leaned back in the chair, one ankle resting on the opposite knee. Matt McCall paced the far wall of his office, shaking with restless energy. Most of their sessions began with Matt sitting, but he always bounced to his feet and started pacing within thirty minutes. By the fifty-minute mark, he looked for escape.
---