Reawakened by Ada Adams
Series: Angel Creek #2
Kindle Edition
Published November 27th 2012
Genre: YA Paranormal
Source: Review copy via Blog Tour in exchange for honest review
Buy:
Kindle



Becoming a vampire guardian was Dawn Fairchild's ticket out of the Scarlet House. Fresh off a successful mission, life in Angel Creek should have been great. But when her sort-of-maybe-boyfriend, Sebastian, disappears on a quest to help a beautiful vampire from his past, Dawn finds herself amidst a web of danger, lies, and deceit.




Joining forces with Razor, an enigmatic rebel lacking both a verbal and a physical filter, and her band of Misfits—Brooke, Sophie, Hunter, and Seth—Dawn is thrust into a race against the clock to solve the mystery surrounding brutal Born kidnappings and come to terms with the sudden discovery of her own unique powers. With time ticking away and Born vampires' lives in jeopardy, it quickly becomes evident that someone—or something—desperately wants her and is willing to shed any amount of blood to get her.




Dawn has only one chance to face her demons and overcome all obstacles standing in her way as she embarks on the biggest mission of her life—one that threatens a deadly outcome for all involved.
RATING: 5 Stars out of 5
Previous books in series:
I simply adore the world building in both ReVamped and ReAwakened. It's unique--vampires among humans? Really? Really! It's good to read how Dawn is growing from ReVamped. There's more responsibilities since the misfits are going to be the guardians of the town but things aren't going smooth for their group. Terrible things are happening and the new vampire president seems to be hiding something. What could it be? Will Dawn be able to find out?
One of the things I appreciate about ReAwakened is new character! Usually, the focus tends to scatter when there are just so many characters around. I'm happy to say that this doesn't happen in ReAwakened--it only makes it more enjoyable and interesting to read! I think Razor is a great character which brings fun into the book and I can say that he's comparable to Sebastian!
The unexpected ending left me craving for more and it leaves a great opening for the 3rd book, which I'm really looking forward to. If you haven't read the series yet, I highly recommend you to read them!
More about the author: Ada Adams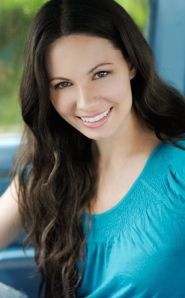 "Many people sing in the shower. I write scenes in my head and act them out."
At the age of five, Ada read her first chapter book—
Pippi Longstocking
by Astrid Lindgren. Ever since that moment, she developed an intense passion for stories and characters found within the pages of literature.
In her career as an actress and a writer, Ada currently spends most of her days immersed in imaginary worlds. Much like the characters she enjoys playing and writing about, Ada is a martial artist with a Black Belt in Shotokan Karate. She is also a big proponent of lifelong learning, and has attained a Bachelor of Arts in Psychology (it aids in creating characters with unique quirks!) as well as a Master's of Science in Education.
Ada strives to bring a fresh voice and perspective to fiction. She has been writing creatively for many years, and is an editor of a global fashion/literary magazine called VEUX.
ReVamped
is her debut novel.
She lives in Toronto, Canada, and enjoys adventurous nature hikes with her adorable puppies Cara and Oreo.
GIVEAWAY
- 3 winners (One grand prize winner +2 small prize winners)
- One main entry per person
- Must be 13 years or older to enter
- Winners will have 48 hours to reply before a new winner is chosen
Grand Prize Winner will win the following-