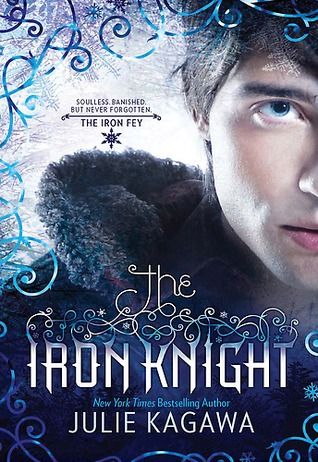 The Iron Knight by Julie Kagawa
Series: The Iron Fey #4
Genre: YA Fantasy
Paperback, 1st Edition, 394 pages
Published October 26th 2011 by Harlequin TEEN
Source: Library
Rating: 5/5 Stars
Buy:
Amazon
,
Kindle
,
The Book Depository
Goodreads Summary:
Ash, former prince of the Winter Court, gave up everything. His title, his home, even his vow of loyalty. All for a girl… and all for nothing.
Unless he can earn a soul.
To cold, emotionless faery prince Ash, love was a weakness for mortals and fools. His own love had died a horrible death, killing any gentler feelings the Winter prince might have had. Or so he thought.
Then Meghan Chase—a half human, half fey slip of a girl— smashed through his barricades, binding him to her irrevocably with his oath to be her knight. And when all of Faery nearly fell to the Iron fey, she severed their bond to save his life. Meghan is now the Iron Queen, ruler of a realm where no Winter or Summer fey can survive.
With the (unwelcome) company of his archrival, Summer Court prankster Puck, and the infuriating cait sith Grimalkin, Ash begins a journey he is bound to see through to its end— a quest to find a way to honor his solemn vow to stand by Meghan's side.
To survive in the Iron realm, Ash must have a soul and a mortal body. But the tests he must face to earn these things are impossible. At least, no one has ever passed to tell the tale.
And then Ash learns something that changes everything. A truth that turns reality upside down, challenges his darkest beliefs and shows him that, sometimes, it takes more than courage to make the ultimate sacrifice.
---
My Opinion: (Warning: minor spoilers ahead. Read at your own risk)
The Iron Knight is a wonderful finale to The Iron Fey series. Three words to describe what I felt about the book: I LOVE IT! There are just so many reasons. I've really, really, really enjoyed Meghan and Ash's tough journeys and see their development. The Iron Queen is probably the best of the series since they are so many lovely moments between them. *wistful sigh* But they were separated in the end because Ash couldn't withstand being in the Iron realm without being hurt, so Meghan banished him. I was totally heartbroken! Fear not, The Iron Knight gave me hope of them being together again. It didn't disappoint me.
The Iron Knight is from our beloved Prince Ash's POV. We get to follow him on his dangerous journey to find a way to gain a soul and become human so that he can go back to Meghan and to fulfill his promise to her. Things will not be interesting if our witty Puck is not around. It's always amusing to read their scenes. Oh Puck, you are just so funny at times. I love your wit! So, the duo set off to find their guide to wherever they need to go for Ash to get his soul. As their journey continues, more friends joined them and together, they journey together to the End of the World.
Great story, great characters, great friendship, great surprises and a wonderful love story of a Prince who gave up his everything just to be the only one he loves. I love reading from Ash's POV, to get into his thoughts and know more about him and his internal struggles when faced with the surprise. It's a wonderful ending for a wonderful series and I recommend this book (and series) to anyone who loves faeries and icy prince.
---
Quotes:
"My fall began, as many stories do, with a girl."

There is nothing more terrible than a spurned faery queen, particularly if you defy her a second time. I escaped the Winter Court with my life intact, but just barely, and I won't be returning anytime soon. My loyalty - and my heart - belongs to another queen now.

"Mercy is for the weak… let me show you how much of an Unseelie I still am
---
My reviews for other books in the series:
---